Online publishers operate in a rapidly and constantly growing industry. In order to "win" their audiences, publishers have to provide relevant information to the right people at the right time. 
User confidence in the relevance of the content they find, and the speed at which it is surfaced, is vital in this fast-paced industry. The readers' attention span is limited, therefore the online reading experience should be perfected and optimized up to the tiniest details. 
What do you need to build a successful media discovery?
Every new article pushed to the index (i.e., published) should be immediately available for the audience and surfaced in the right context for a query or given category
Building a simple user journey through a multi-tag and multi-category navigation
Maximizing content exposure is key for media companies in two ways: to set themselves apart from competitors, and to keep their audiences engaged. Unfortunately, this approach can quickly overwhelm the reader by showing them too much content at the same time. The optimal solution is achieved by leveraging "federated" content principles, as discussed below, that can help satisfy both needs simultaneously. 
Human-based and AI-based relevance blended
More than any other industry, Media requires sophisticated relevance models that can take into account various types of content (long-lasting or short-lived; article or video). Media companies need to define general or specific rules to surface the right content at the right time. While AI features automate relevance optimization, it does so with full transparency, and allows human control over the outcomes. This automatic/manual balance is essential to meet unique journalism requirements. 
Internal workflow optimization
Getting the most relevant content to the audience cannot happen without efficient and talented content teams. Optimizing editorial workflows with a fast and modern CMS allows journalists to work faster and more efficiently on content curation and cross-referencing. 
Here are some examples of companies successfully implementing these media discovery strategies.
: Medium
Multi-category Instant Search page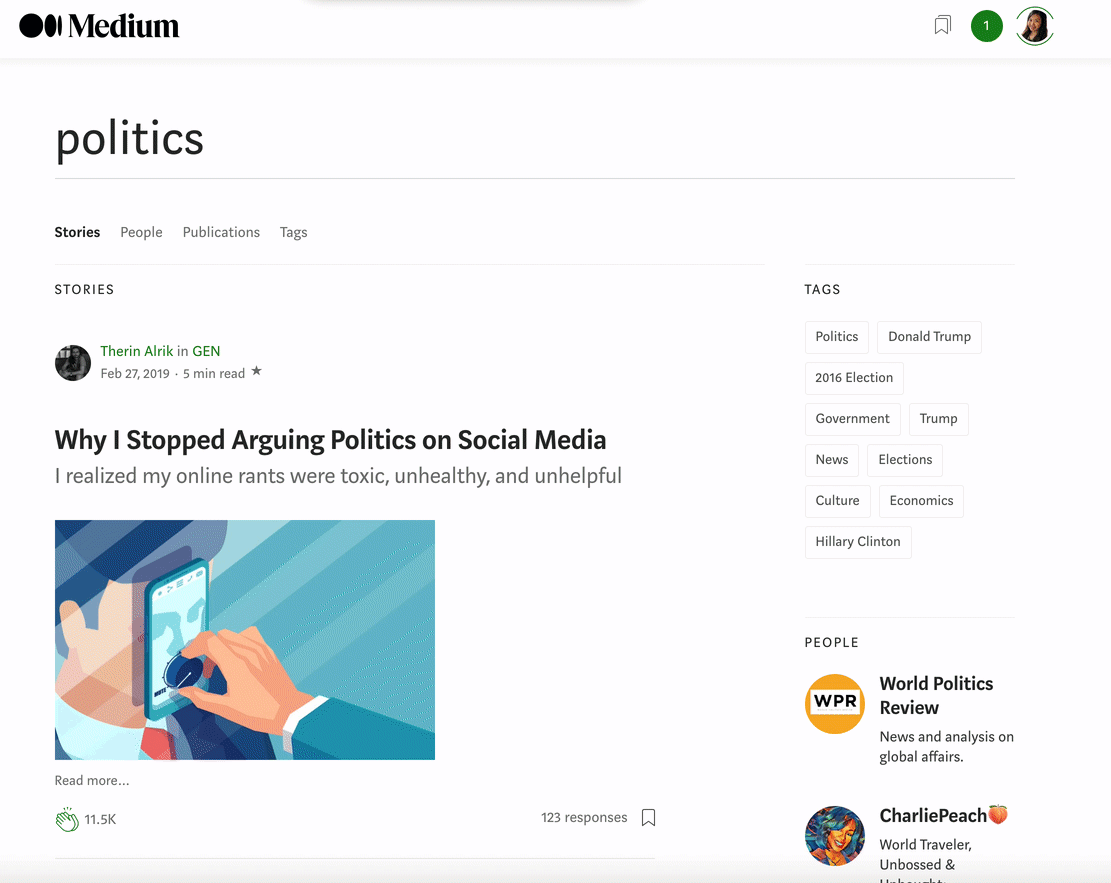 The multi-category instant search experience has become increasingly popular for many business industries. For publishers, multi-index search – often called, federated search – plays an important role in content discovery, allowing users to discover relevant results from various sources in a single unified interface. 
The user interface for the publishing site Medium makes searching simple. With one search, readers will not only see relevant search results, but also intriguing alternatives, such as suggested stories, tags (keywords), and people (writers, organizations, publications).
https://www.algolia.com/doc/guides/building-search-ui/ui-and-ux-patterns/multi-index-search/js/
Autocomplete – federated suggestions on an empty query: The Points Guy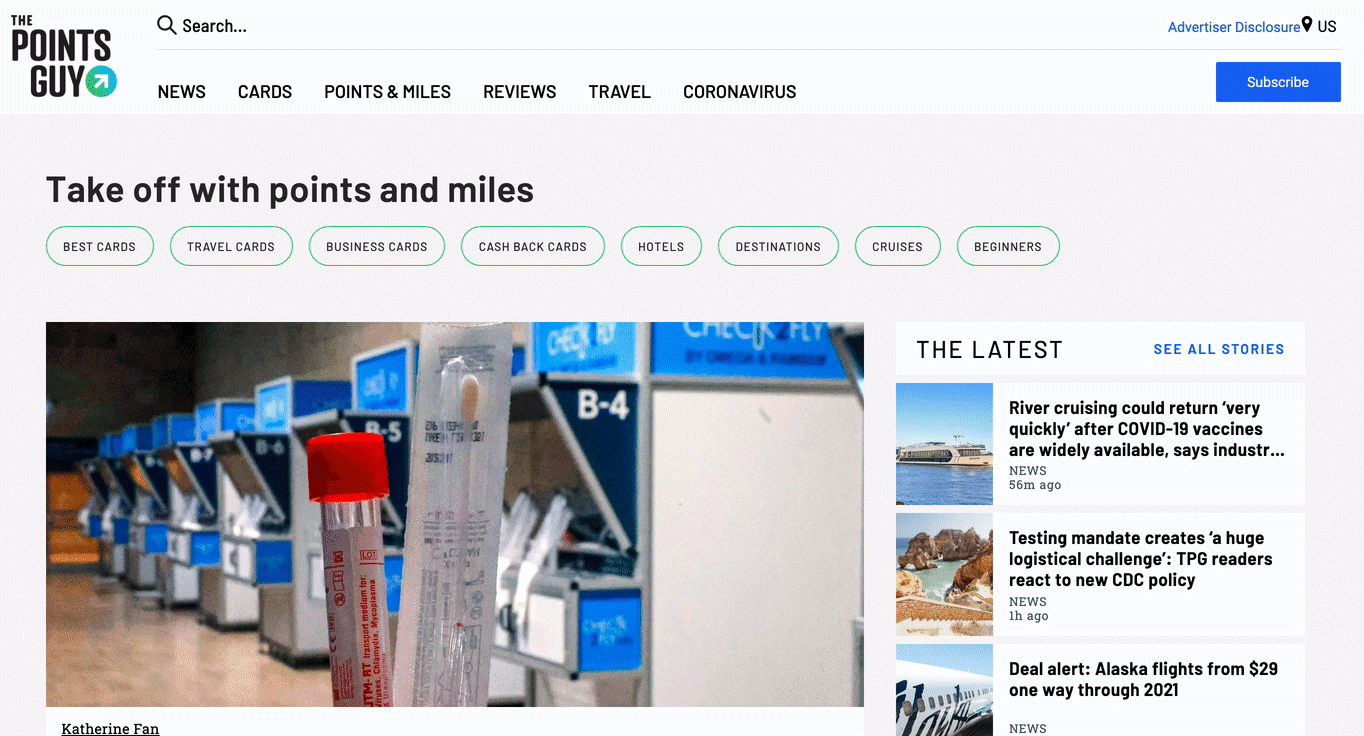 A common goal for a publisher's website is to help users navigate through the website and find relevant information easily and quickly. In addition to providing autocomplete functionality, publishers can display query suggestions as users type in the search bar, thereby guiding users through suggested content from multiple sources and indices even before they start typing. 
To configure federated suggestions on empty queries, you can create a Rule that will boost or bury specific categories, promote or hide items whenever there is an empty query context. Once the user begins to type, this rule is disabled, to provide a user with a full search experience.
For the travel-focused website The Points Guy, in addition to a search box awaiting a user's query, related helpful types of content are suggested, including the latest news about vacation destinations, reviews of hotels, and hot travel deals.
https://www.algolia.com/doc/guides/managing-results/rules/merchandising-and-promoting/how-to/merchandise-on-empty-query/
Editorial content internal search: The Times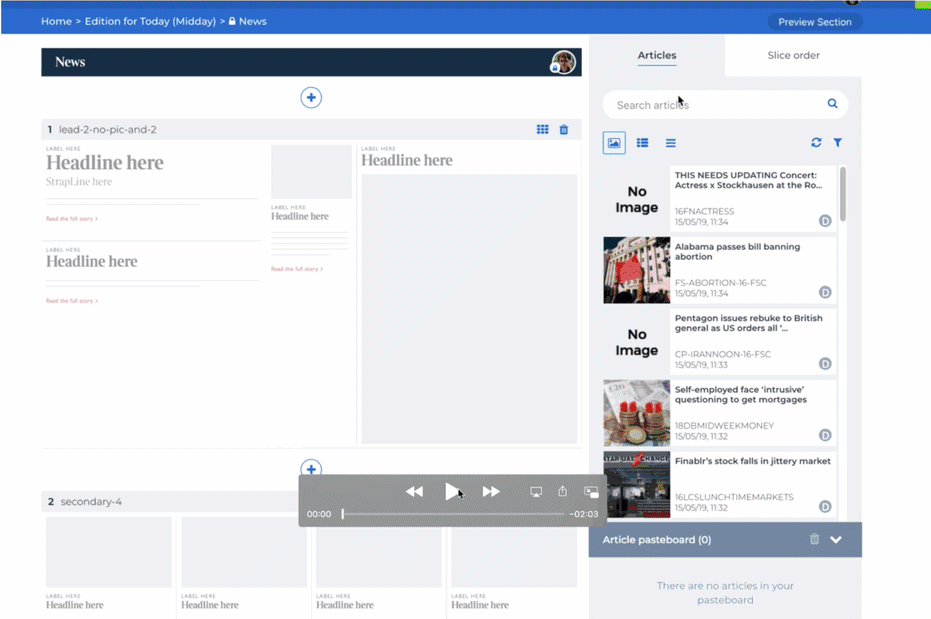 Traditionally, working in the publishing industry required employees to spend large chunks of their workday on internal enterprise search, attempting to find existing articles. This was usually a slow and time consuming process, with low efficiency and mismatched results. For a modern publisher website, internal enterprise search is as important as external customer-facing search.
Editors and journalists need to be equipped with fast and efficient platforms to build, edit, and publish their stories daily. The correct choice of high-performing tools will deliver a significant boost to production productivity.
The example above demonstrates the optimal internal tool, effectively satisfying the needs and demands of a constantly growing digital publishing industry. On the internal websites for Britain's oldest national daily newspaper, The Times & The Sunday Times, employees can enter keywords in a search box to locate news articles by topic, and then drag and drop the content into a newspaper-style layout.
Success Indicators:
~4 hours time saved weekly for production teams

300-500x faster search time productivity
https://www.algolia.com/doc/guides/managing-results/relevance-overview/
Read more about The Times' journey to boosting production productivity
Promotion banners in search: ABC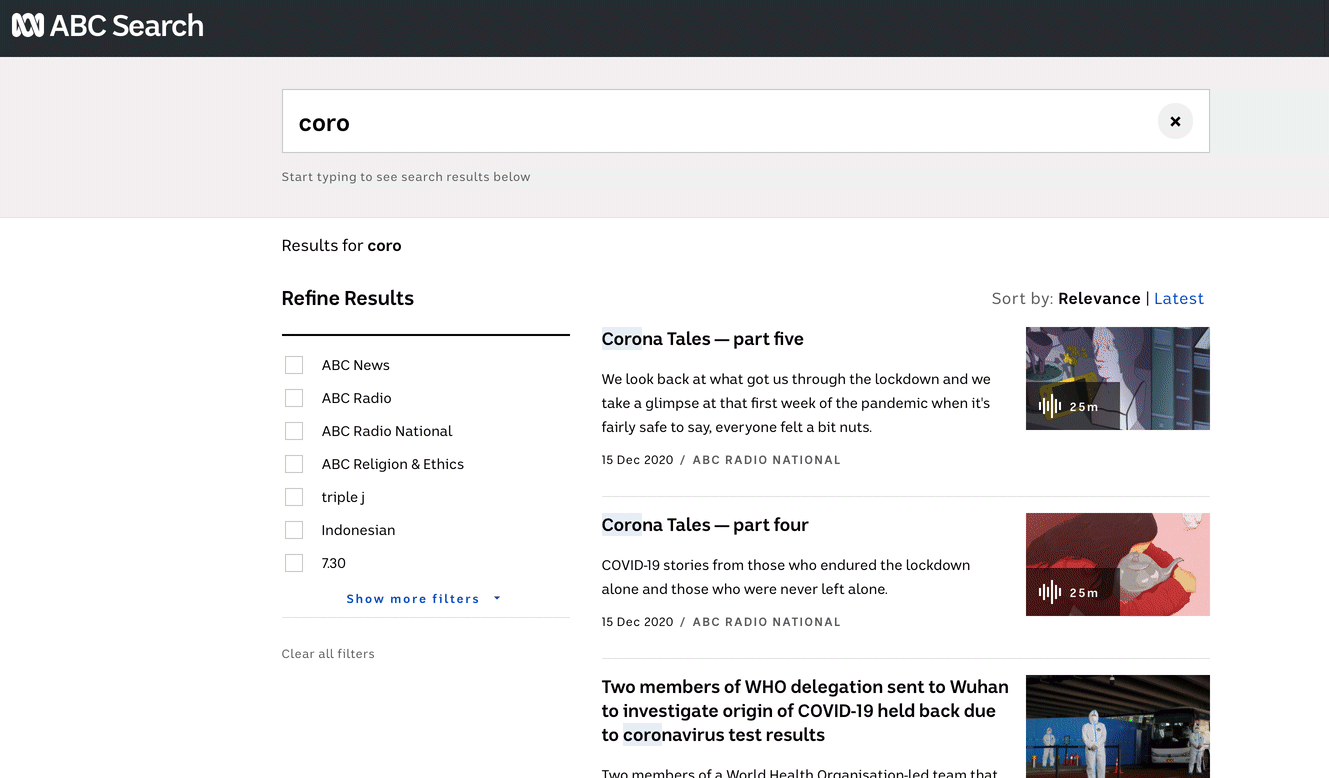 On the Australia Broadcasting Corporation (ABC) website, when a visitor enters a query about a topic of interest such as "fact check" or "coronavirus" in the search box, a clickable banner ad promoting fact check news content appears below the box. This type of functionality is triggered with relevance rules and is part of the global relevance strategy applied to the data index.
Different types of banners you can implement for your website:
Keyword-triggered banners
Depending on what the user is typing, promotional banners are displayed around or within the search results

Implementation steps:

Build a banners index

Build an index to hold the details of the different banners and what keywords they should be shown for
Category-specific banners
Some banners should only be displayed when filtering for certain categories or brands, with or without matching some keywords.

Implementation steps:

Starts with the keyword-triggered banners approach

Add to your records the categories for which a banner would be valid

Add

categories

to the attributes for faceting on your banners index

When sending the query to your banners index, use

filters

to facet on the current category, so that only banners valid for them are returned.
Geo-located banners
Displaying different banners depending on the geographic location of your users

Implementation steps:

Add geolocation data to your banners records, to tie them to a specific location to which they are relevant

You can add multiple locations if necessary, by using an array of geolocation points

When you send your query to find possible banners, make sure you include the location of your current user in the request
Personalized banners
Some banners must be shown only to specific users or segments of users

Implementation steps:

Add the relevant user IDs or segment IDs to your banners records

If a banner is valid for all users, set the attribute's value to "

all

"

Add

segments

or

users

(depending on your use case) to the attributes for faceting of your banners index

Include a filter in your queries sent to the banners index, to make sure you find only the right banners
https://www.algolia.com/doc/guides/managing-results/rules/merchandising-and-promoting/how-to/add-banners/
Full-text search-as-you-type experience: ABC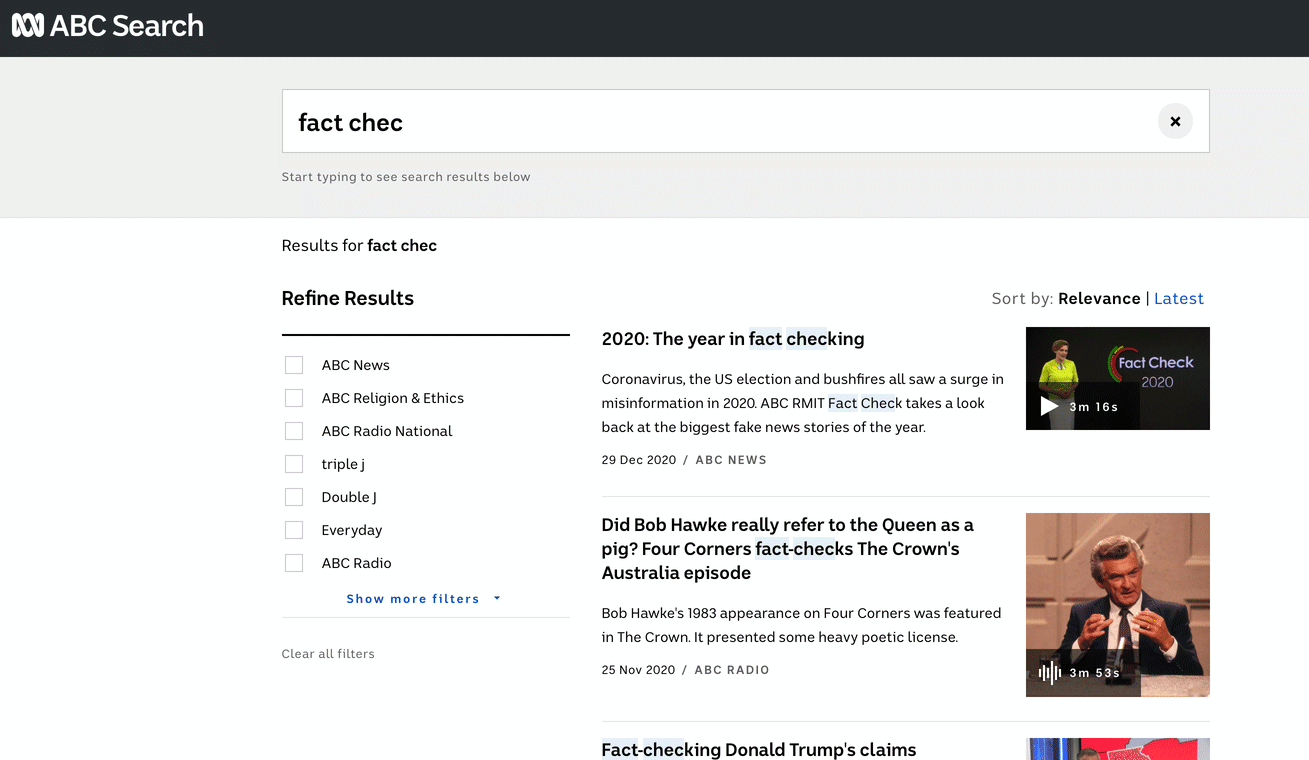 The Australia Broadcasting Corporation (ABC) website has a robust search experience, ensuring high content discoverability and relevance. ABC website's search features include full-text search-as-you-type functionality, allowing the user to search their articles and news items not just by the main title but also the text inside each article, highlighting all relevant content for the user.
Dynamic landing pages with tag-based filters: Hackernoon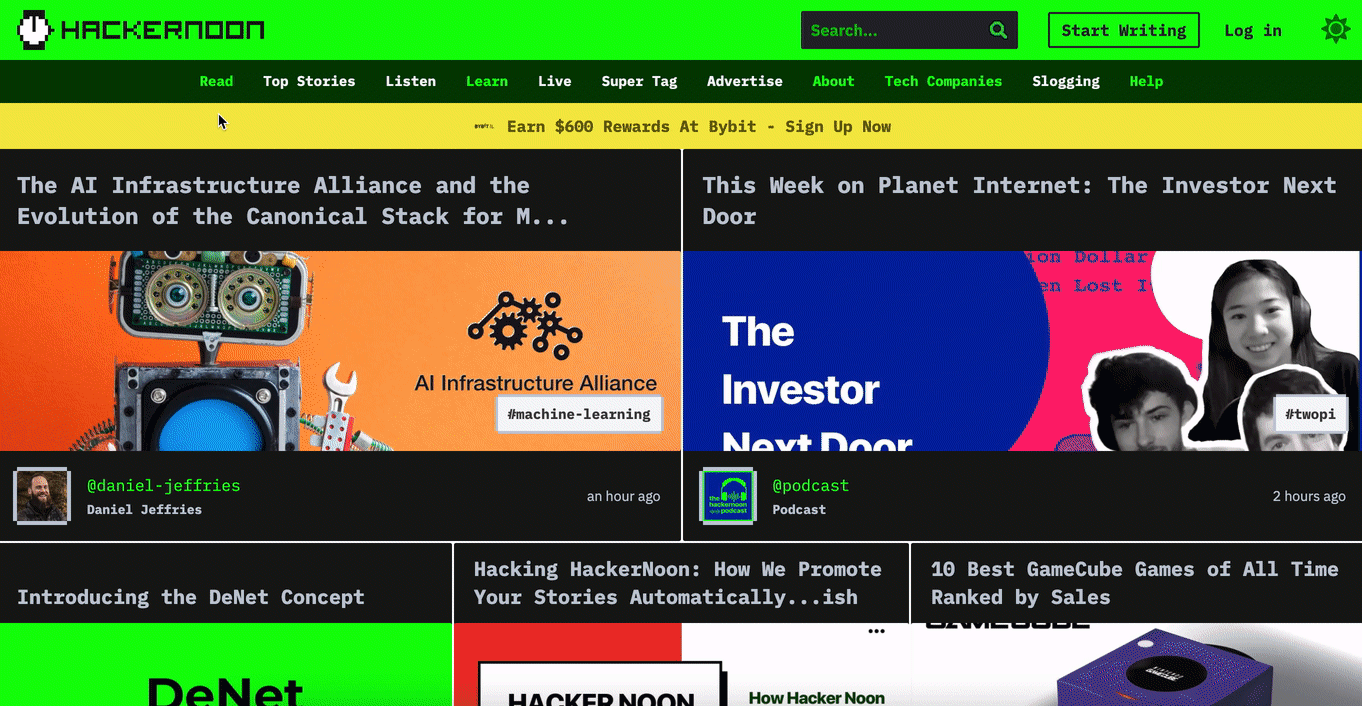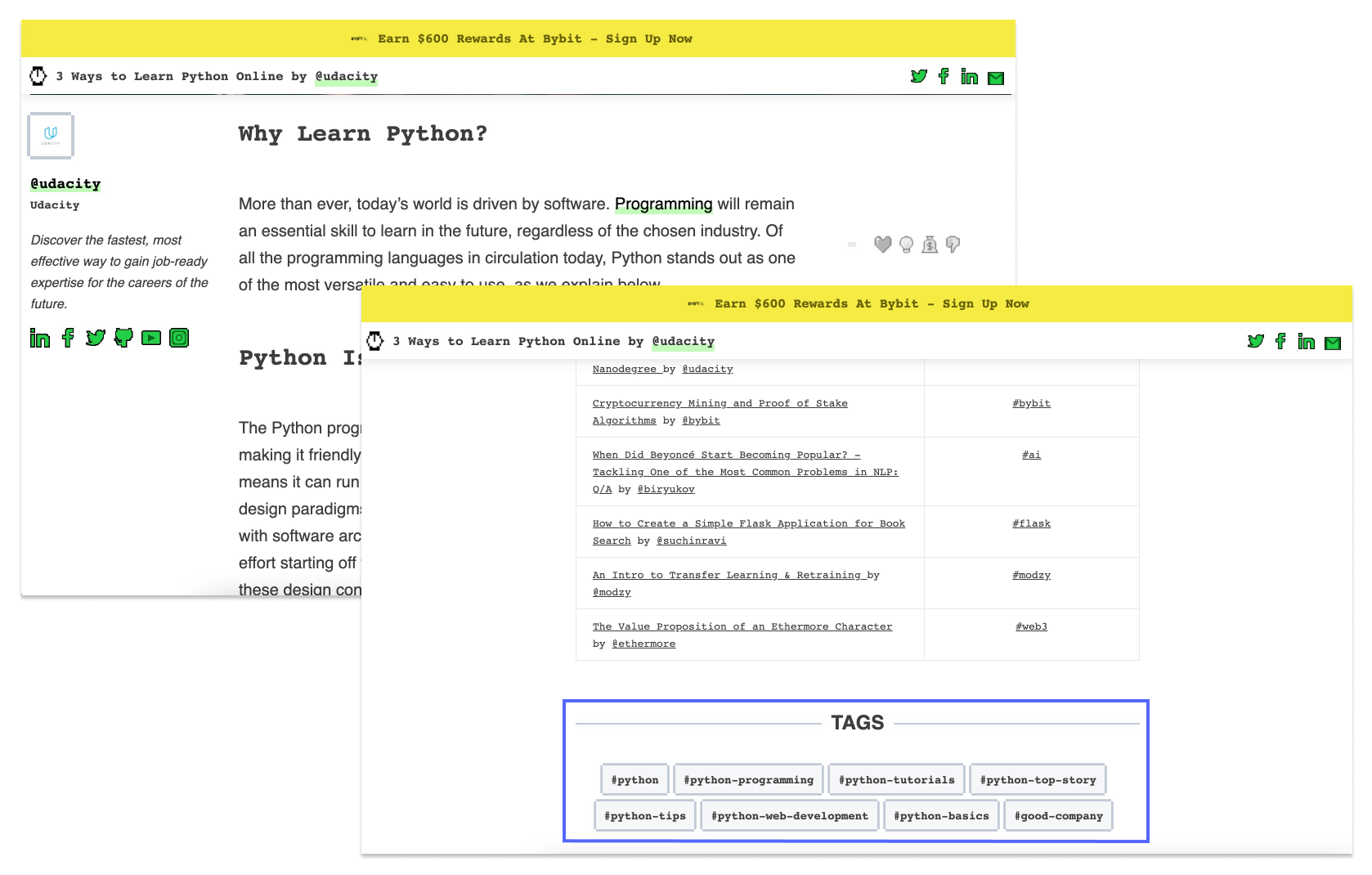 Hackernoon website uses tag-based filters for showing users the most relevant results in their chosen category of interest on a dedicated landing page. Through implementing filtering and navigation strategy, Hackernoon ensures that every article published on the website can be filtered by tags. Algolia lets publishers filter the results by allowing them to tag their articles, ensuring that the content results they get are based on what their readers most likely want to see.
https://www.algolia.com/doc/guides/managing-results/refine-results/filtering/how-to/filter-by-string/
Saved search: Politico
Content Notification Service
Saved-search functionality allows media companies to automatically notify users when new matching content items become available on the site. Saved searches are great for automating repetitive search queries, and to keep up to date with changing content, which is especially common for news and other publishers' use cases.
On Politico's website, users can toggle a switch to save the search and be notified by the news website when a content item matching the query is published. Multiple searches can be saved simultaneously.
https://www.algolia.com/doc/guides/solutions/sample-apps/#search-alerts-with-algolia-firebase-twilio-and-sendgrid
Push notifications & monitoring dashboard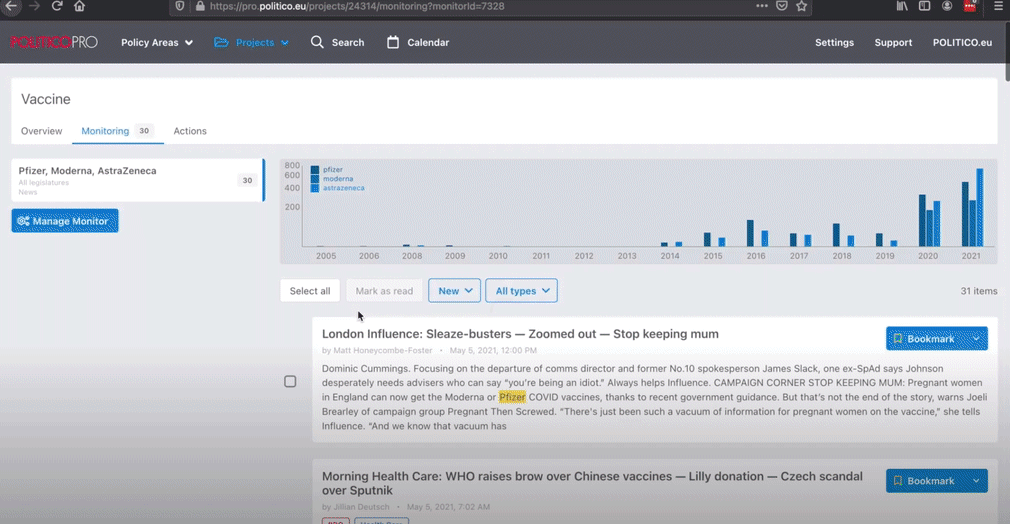 In addition to sending notifications, publishers' sites can offer users additional convenient ways to discover new content related to their topics of interest. In this example, the publisher uses Algolia to trigger push notifications and to feed a monitoring dashboard on Politico's website.
NLU search: Politico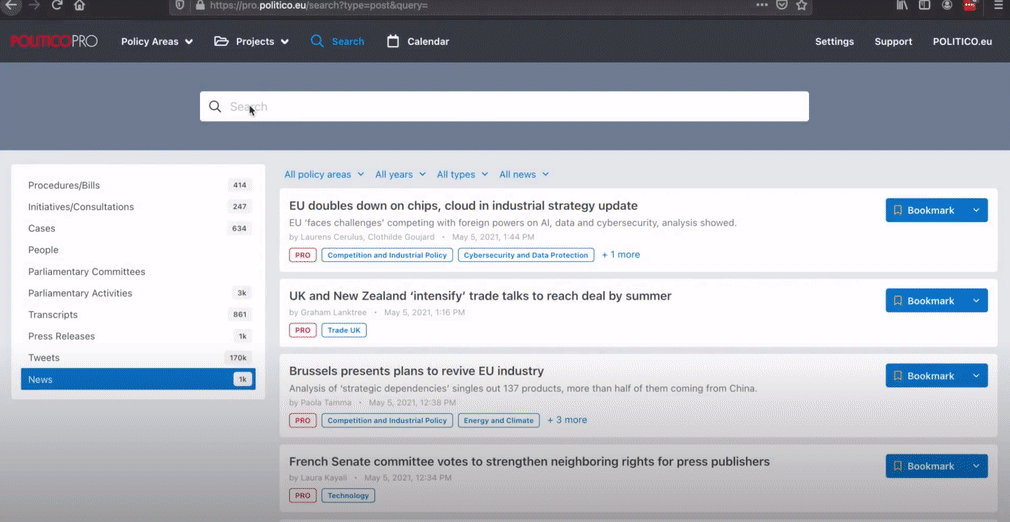 With the technological advances in search engines such as Google, users are now accustomed to ask questions using their natural language instead of typing artificial search queries in the search bar. NLP extracts the users' intent from their questions (semantic understanding) and offers best-matching answers without the need for extra training of the model. Here, on Politico's website, users are presented with relevant answers to their queries. This type of functionality enables users to easily find the most relevant answer to their questions. Moreover, the results presented to them are dynamically updated with every keystroke as they type.
Success Indicators:
8 times faster search

Highly relevant results

Intuitive user experience

Not losing sales due to users not finding what they are looking for
Conversational Search on Chatbot
For users looking for reliable information, chatbot is going to be a more intuitive choice over extensive browsing.A chatbot answers your users' questions instantly. Such functionality can be achieved by using Google Cloud Dialogflow Messenger to implement the chatbot and to leverage the natural language processing to return the best-matching answer from within your content.
https://www.algolia.com/doc/guides/solutions/sample-apps/#chatbot-with-algolia-answers-and-dialogflow
Conclusion
The best publishers' sites provide fast search, highly relevant results, and intuitive user experiences. Companies do not want to lose sales due to users not finding what they are looking for. That's why they use multiple tools to improve the user journey and content discoverability on their websites, such as query suggestions for every user search, promotion banners related to the user query, and surfacing the most relevant and promoted content first. Additionally, they use a more personalized approach to provide their uses with topics that interest them most, by incorporating saved search alerts and push notifications and monitoring dashboards. Finally, they use conversational search to offer more interactive and intuitive search experiences, providing accurate and relevant answers by leveraging natural language processing.
About the author