The digital transformation in business-to-business (B2B) ecommerce puts increasing demands on the digital user experiences. The demand for B2B ecommerce is growing rapidly. Currently, 75% of B2B product purchases are already made online. While 30% of B2B buyers would prefer to purchase at least 90% of products online, only 19% are currently doing so. B2B site visitors' activity is not limited to purchasing products, but rather spans to multiple other areas, such as product information gathering, customer service related interactions such as help center search, communication via chat or phone with sales or support representatives, and more. As much as 62% of B2B buyers now prefer to access information online, prompting companies to start taking into consideration customers' new demands and expectations from the B2B commerce processes and experiences. 
Today, over 90% of B2B purchases start with a search, and most interactions already occur through digital channels. The new generation of buyers have higher expectations from B2B ecommerce platforms: relevant and intuitive product search and navigation, easier and faster checkout, easy repeat ordering, quicker delivery, and improved tracking.
"Online B2B leaders like Amazon Business, W.W. Grainger Inc., MSC Industrial Supply Co., Hewlett-Packard Enterprises and Dell Technologies have been raising the bar in ecommerce for years among manufacturers and distributors." (Source: Order Up: Brewing an effective purchase path for B2B buyers, August 2021) These companies were quick to follow the lead of B2C digital transformation. By adopting B2C ecommerce best practices, they became leaders in the B2B space and now dominate the industry. 
"Manufacturers HPE and Dell have long invested in online ordering and related systems like sophisticated product configurators. Distributors Grainger and MSC each continue to improve how they enable customers to find and order products and services through multiple electronic channels ranging from ecommerce sites and mobile devices to internet-connected vending machines and EDI." (Source: Order Up: Brewing an effective purchase path for B2B buyers, August 2021) Such strategic investments in digitalization of B2B commerce platforms future-proof these companies, differentiate them from the competition, and allow them to quickly adapt and iterate on any industry shift. On top of that, the culture of continuous innovation makes new technology adoption a smoother process and incites much less internal resistance to change than organizations which are slow to keep up with the trends.
Current trends in B2B commerce
The leading B2B ecommerce marketplace platforms include the following features (Source: Amazon, Promo Marketing Magazine, Alibaba 2021):
The platform serves as a procurement hub for products from various industries/categories

Buyers can sort or search by industry or product category

The platform supports corporate purchasing cards and offers quantity discounts, business-only pricing, and other perks

A suppliers/sellers filtering option by various qualities, such as diversity, equity, and inclusion, designed to connect buyers with small and diverse sellers, suppliers, industry, annual revenue, country of origin, industry experience, markets they operate in, and more

The platform allows buyers and sellers to negotiate prices directly on the platform, including using a chat feature

The platform leverages B2C UX and best practices
UI and UX design modeled from B2C best practices
In the following example, Amazon B2B marketplace features separate product catalogs and different UI designs, specifically tailored for each industry of business customers, to ensure that only the most relevant products are presented to each user.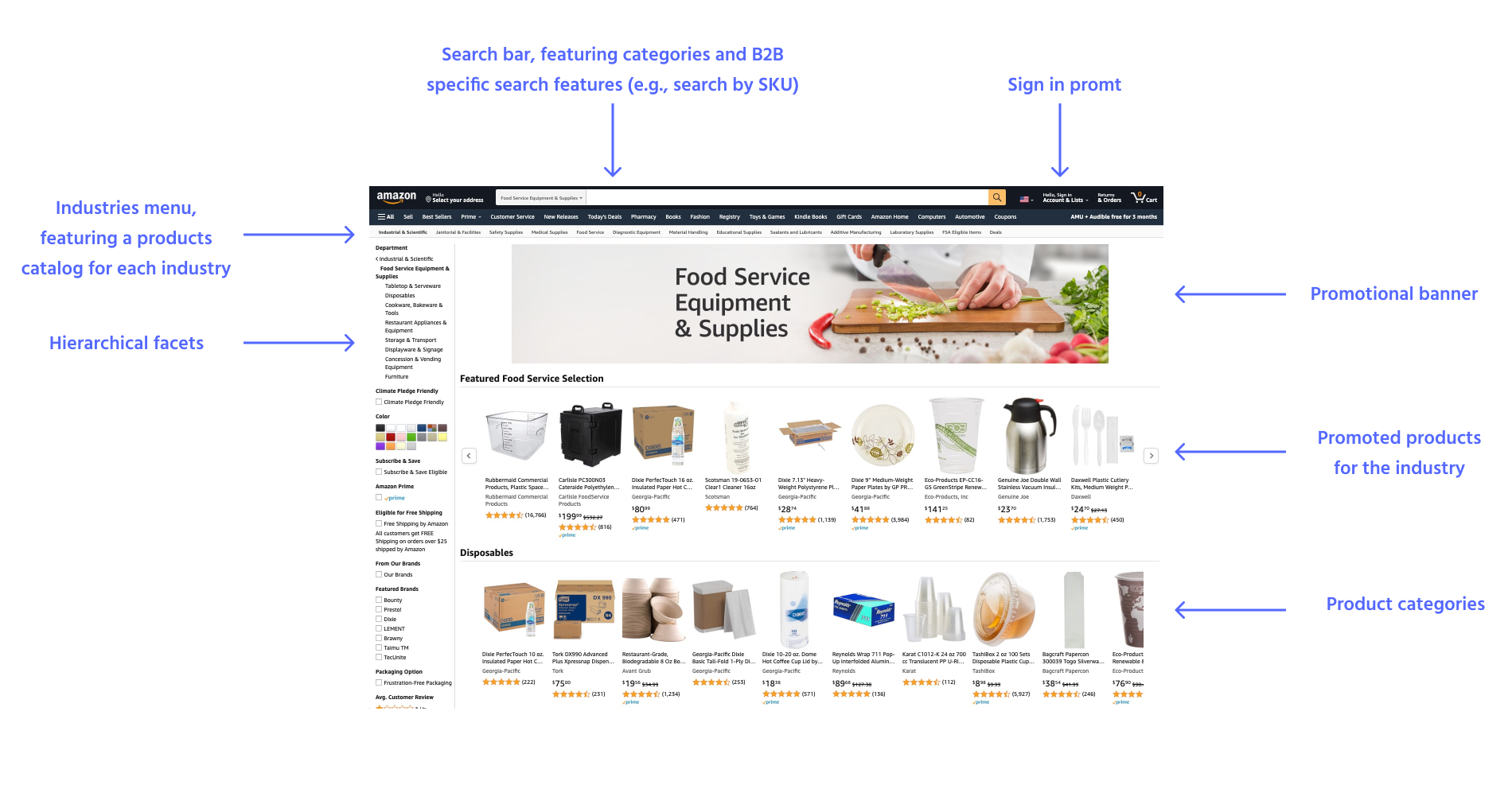 Landing page best practices
In the following example, Amazon customized the landing page UI/UX design for each industry on it's B2B marketplace to best serve the needs of each business customer sector. Selling goods and services to businesses differs from selling to individuals on multiple aspects. B2B companies can face challenges not typically present in the B2C field. For instance, B2B companies have to show their expertise and reflect their buyer's industry and context on the landing page in order to create trust among their business customers.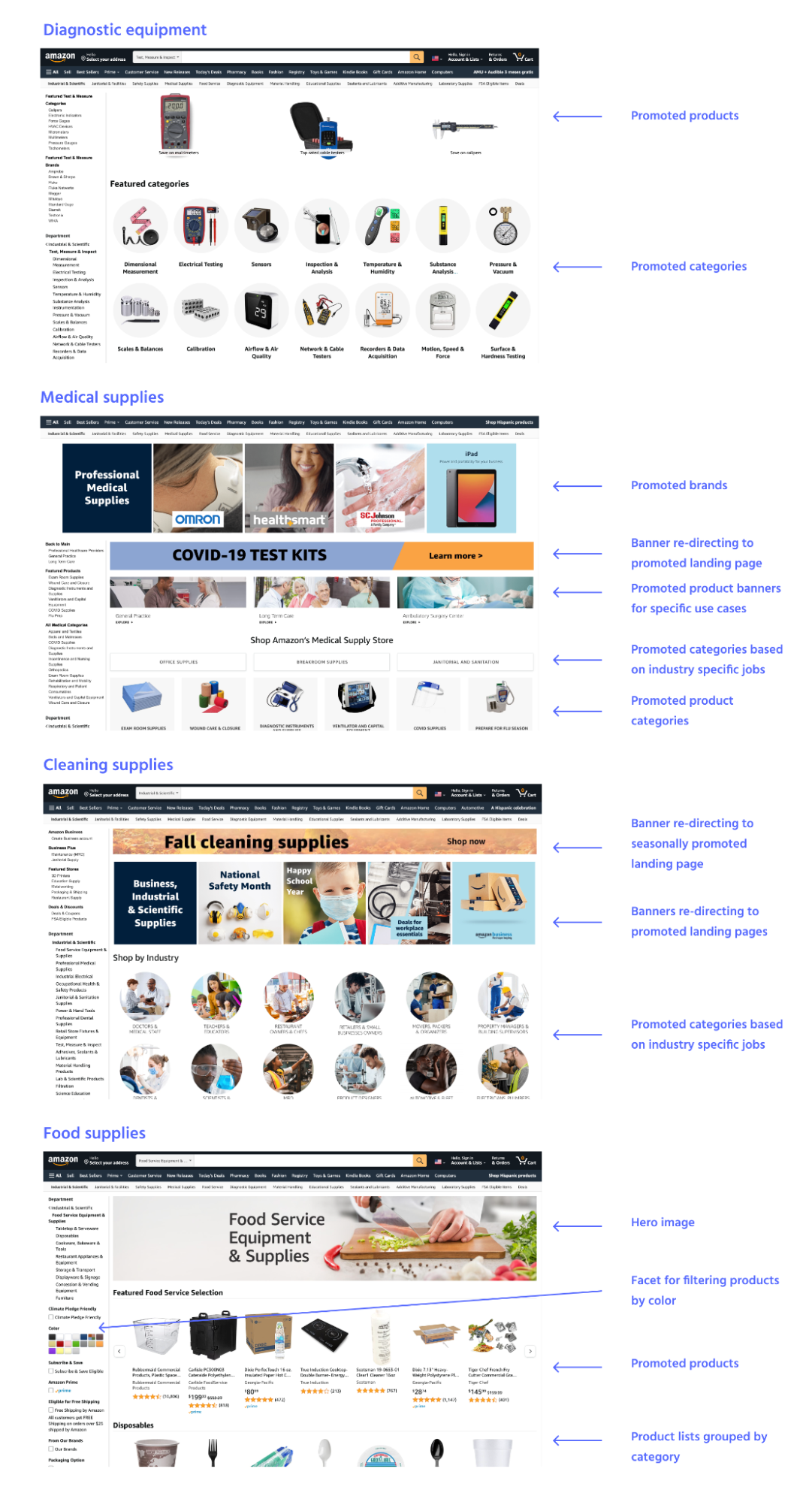 Advanced ecommerce features like promotions and recommendations
In the following example, B2B marketplace Alibaba offers users advanced ecommerce features commonly used on B2C ecommerce sites for its B2B marketplace: product recommendations based on user search query, promoted categories, and recommended search queries.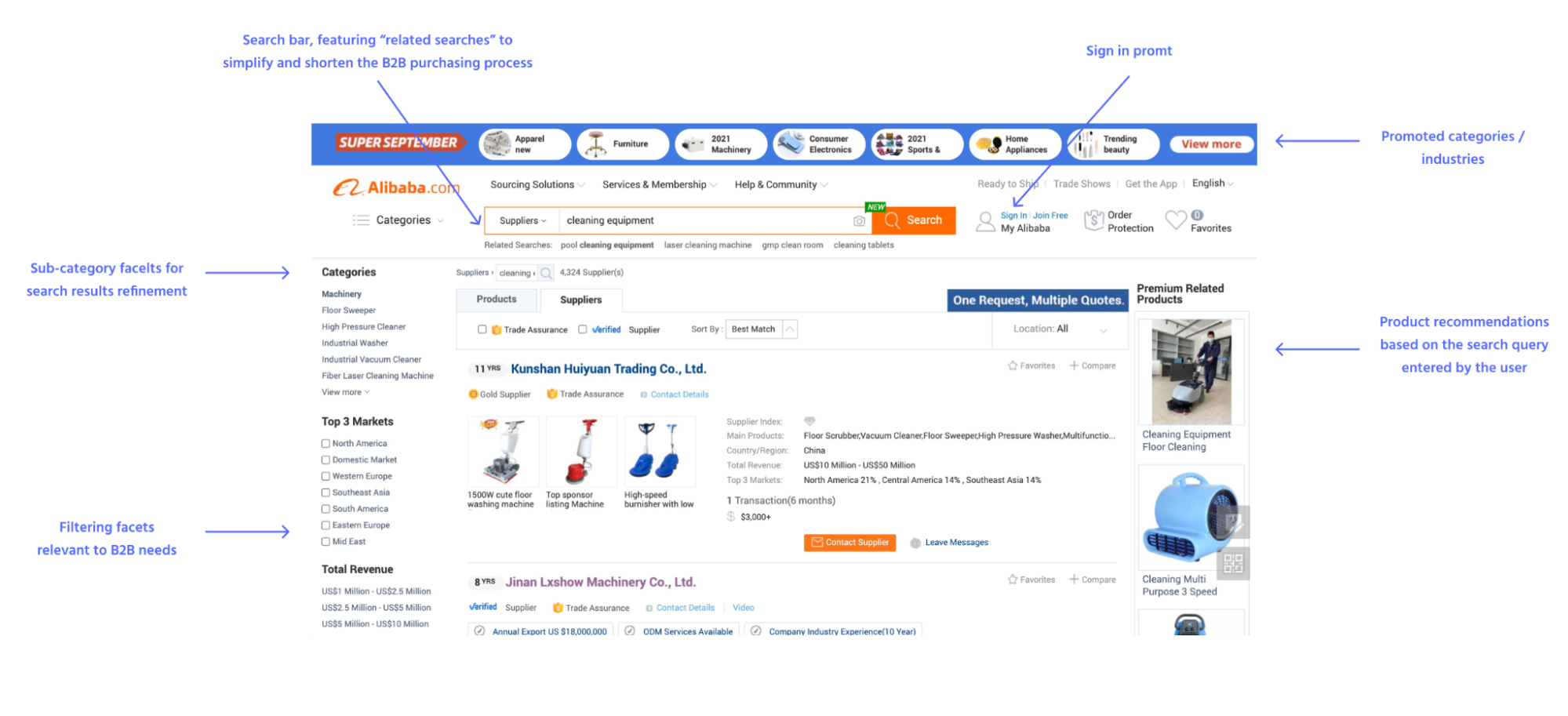 The leading B2B manufacturer and retailer sites include advanced ecommerce features similar to leading B2C websites. Successful B2B ecommerce sites include B2B specific functionality with B2C ecommerce best practices (Source: Baymard Institute), such as:
Autocomplete search with predictive query suggestions, including catering to specific B2B user behavior, such as search by SKU

High search results relevance

Efficient filtering and navigation, serving specific business needs

Personalized catalog, search results, pricing, etc. for each business user

AI optimizations and advanced merchandising strategies for better conversions and sales increase

Intuitive, yet B2B optimized checkout flow

UX catering to novice users and not just returning or experienced users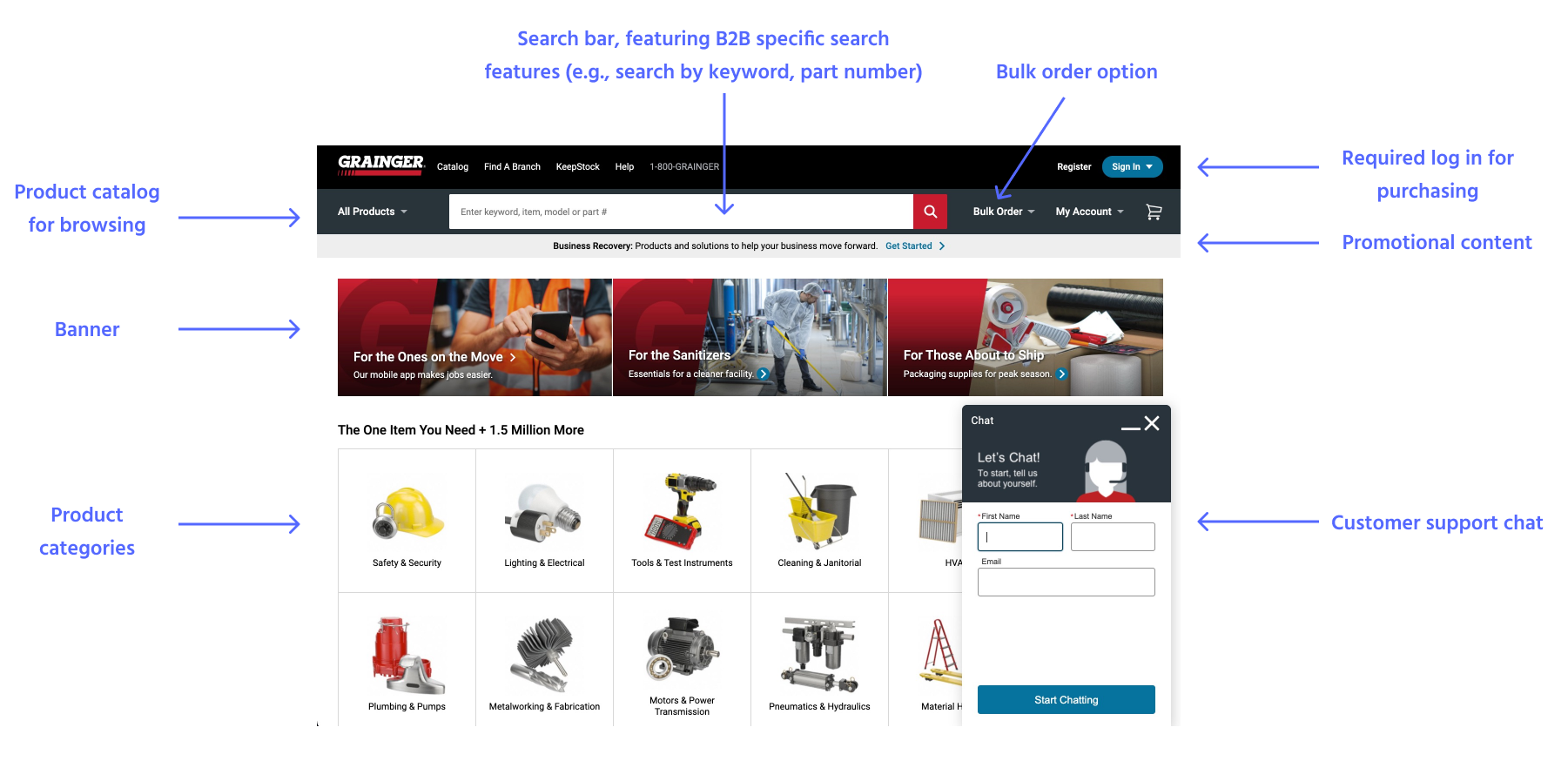 Why is there urgency to adopt B2C practices?
The digital transformation has started for B2C companies much earlier than for B2B retailers. When Covid-19 pandemic accelerated the need for ecommerce to evolve and quickly adapt to changing customer demands and expectations, the most tech-savvy B2C retailers were ready to leverage the multiple tools available to them to place themselves at parity with large B2C retailers such as Amazon. Today's shoppers are accustomed to quick and relevant search results, easy site navigation and ordering processes, product recommendations, convenient checkout processes, and helpful customer support service. The new generation of business shoppers expects similar functionality and user experience from B2B sites as well. With B2C retail giants entering and soon to be dominating the B2B space, it is vital for B2B retailers' survival to adapt as quickly as possible to the business shoppers' expectations and implement B2C best ecommerce practices for their sites.
The impact of digital transformation on B2B industry
Market size: The total addressable B2B market is $67 trillion, nearly three times the size of the global retail market. (Source: RBC Capital Markets,

CNBC

)

Business opportunity: B2B world today still hasn't reached the point where it is efficiently served. (Source: RBC Capital Markets,

CNBC

) Today's relatively low amount of online sales is lagging behind the B2C counterparts, yet is growing steadily and represents a great potential for online expansion. Today's B2B shoppers are expecting the same purchasing experience that is currently available to B2C shoppers. By investing in digital transformation of B2B ecommerce platforms, technology infrastructure, and other online transaction supporting systems (e.g. pricing engine, inventory management), B2B companies will be able to get a hold of larger market chunks, as the majority of B2B competition is largely behind in their ecommerce digitalization.
Success Metrics: According to a research performed by McKinsey, B2B companies that successfully master digital transformation have 8% more shareholder returns and five times more revenue growth than their peers.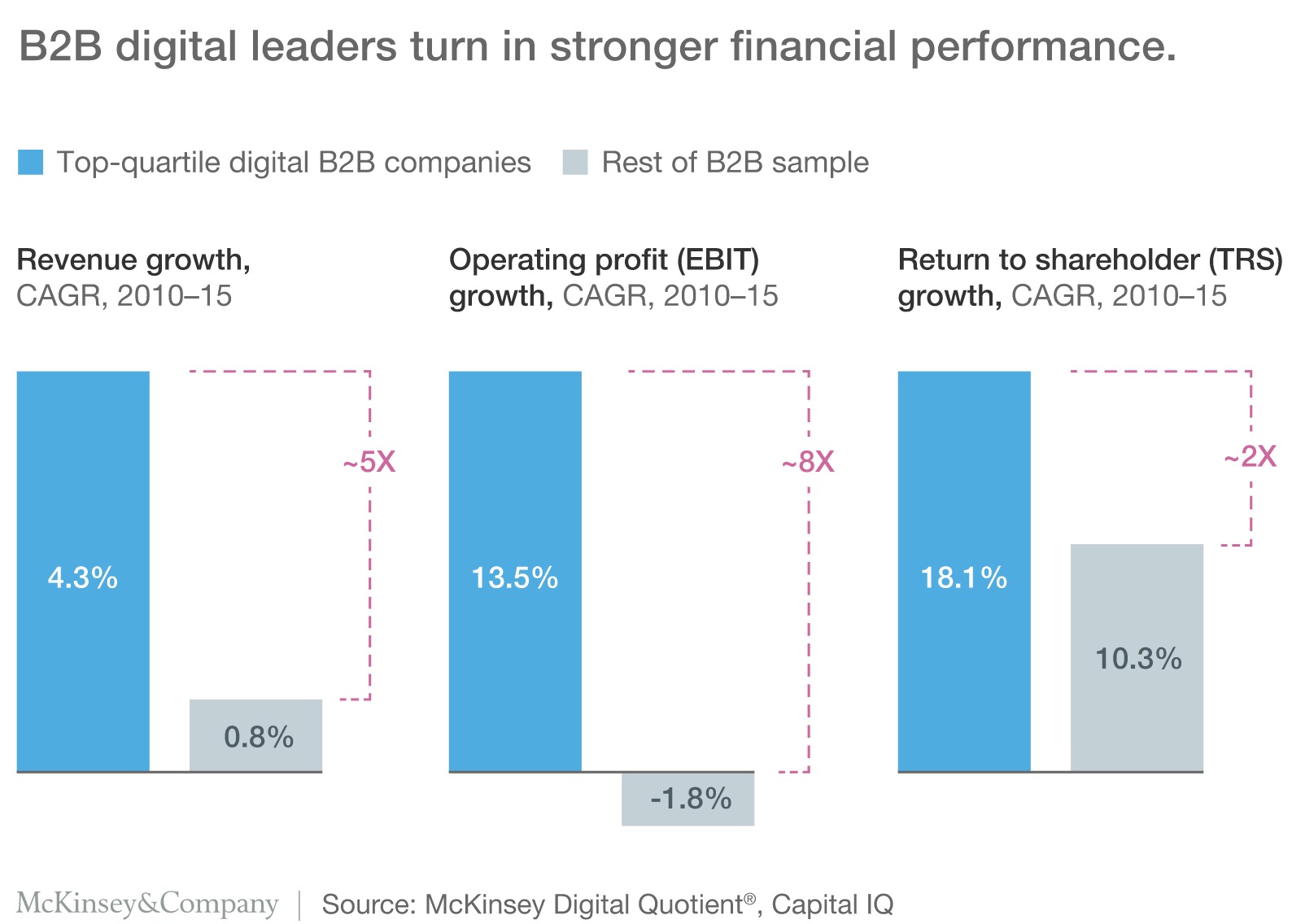 Industry leaders such as Amazon are projected to dominate the B2B retail market. With the right approach to B2B digital user experience and ecommerce process optimization, such as adopting best practices from B2C and addressing B2B unique needs and common pain points, Amazon is able to achieve tremendous growth in market share and profitability. 
B2B ecommerce characteristics and implications
Characteristic

Implications

User segments

Domain experts and returning users have a professional context and a robust product knowledge

B2B users with extreme levels of product knowledge may perform navigation shortcuts: searching for a SKU, clicking navigation breadcrumbs, keyboard tabbing through a form, etc.

'Domain Expert' fallacy

Low attention to novice users

(new to the B2B brand, jargon, or the entire industry domain) result in significant navigational challenges.

Neglecting novice users presents a missed opportunity for B2B sites, because these users can represent a great potential source for acquiring new customers.

The individual user's importance

Individual users represent great sources of profits, and are more detrimental to alienate.

B2B sites invest more in customer support solutions, while B2C sites minimize them due to margins considerations.

User intent

B2B product browsing is more intent and problem driven.

B2B users tend to filter by specific product attributes, or to perform feature queries (looking for something specific).

Checkout flow / complexity

Checkout flow and order confirmations are more complex (separate billing and shipping addresses, VAT numbers, PO numbers, accounting information, etc.).

Payment methods can be asynchronous (invoicing, purchase orders, credits, etc.). 

B2B checkouts will require checkout optimization to create the right balance between feature rich and usable process.

Ecommerce functionality

Ecommerce functionality is commonly separated from the product catalog.

From a website UX perspective, catalog and ecommerce separation is misaligned with the user web functionality expectations.
Source: Baymard Institute, https://baymard.com/premium/guideline-collections/t0ynv1
In order to successfully transform a traditional B2B retail business into a modern digital ecommerce platform, the software architecture has to be re-designed and restructured. This is a necessary step in order to be able to implement and take advantage of the ecommerce industry's best practices. Moreover, such architectural change will future-proof the B2B organization and prepare it for the ability to generate quick and efficient iterations and produce  a lightning fast response to any new trend or business impacting event.
About the author