On many ecommerce websites and mobile apps, it's common to see user reviews of various products sold on these sites. Such user-generated content offers site visitors an authentic personal opinion and feedback of people who have already purchased and tested the products before. 
User reviews play a critical role in shoppers' ability to make a purchase decision. User-generated reviews featuring pictures or videos of the products make these products and sites that sell them more trustworthy. Yet, 34% percent of ecommerce sites don't allow users to upload images along with the review.
Today, user-generated reviews are transforming from an advertising tool supporting commerce into an independent sub-industry of live-streaming ecommerce. In 2016, Chinese ecommerce platforms began experimenting with live-streaming ecommerce. By 2019, live-streamed ecommerce had become so competitive that large players began to consolidate the space, leveraging Key Opinion Leaders (KOLs) to accelerate sales. (Sources: ARK Investment Management LLC, EqualOcean). 
We can see that celebrities and brand associates used in conventional advertising and marketing strategies are currently perceived less as a trustworthy source of information than influencers and real users on, for example, Social Media. For instance, companies such as rewardStyle (LKT) are specializing in connecting influencers with brands. Currently, rewardStyle is serving over one million brands and 150,000 creators who are constantly generating original content for these brands. This is just a single example of a strong growing trend towards user-generated content in brand promotion and advertising.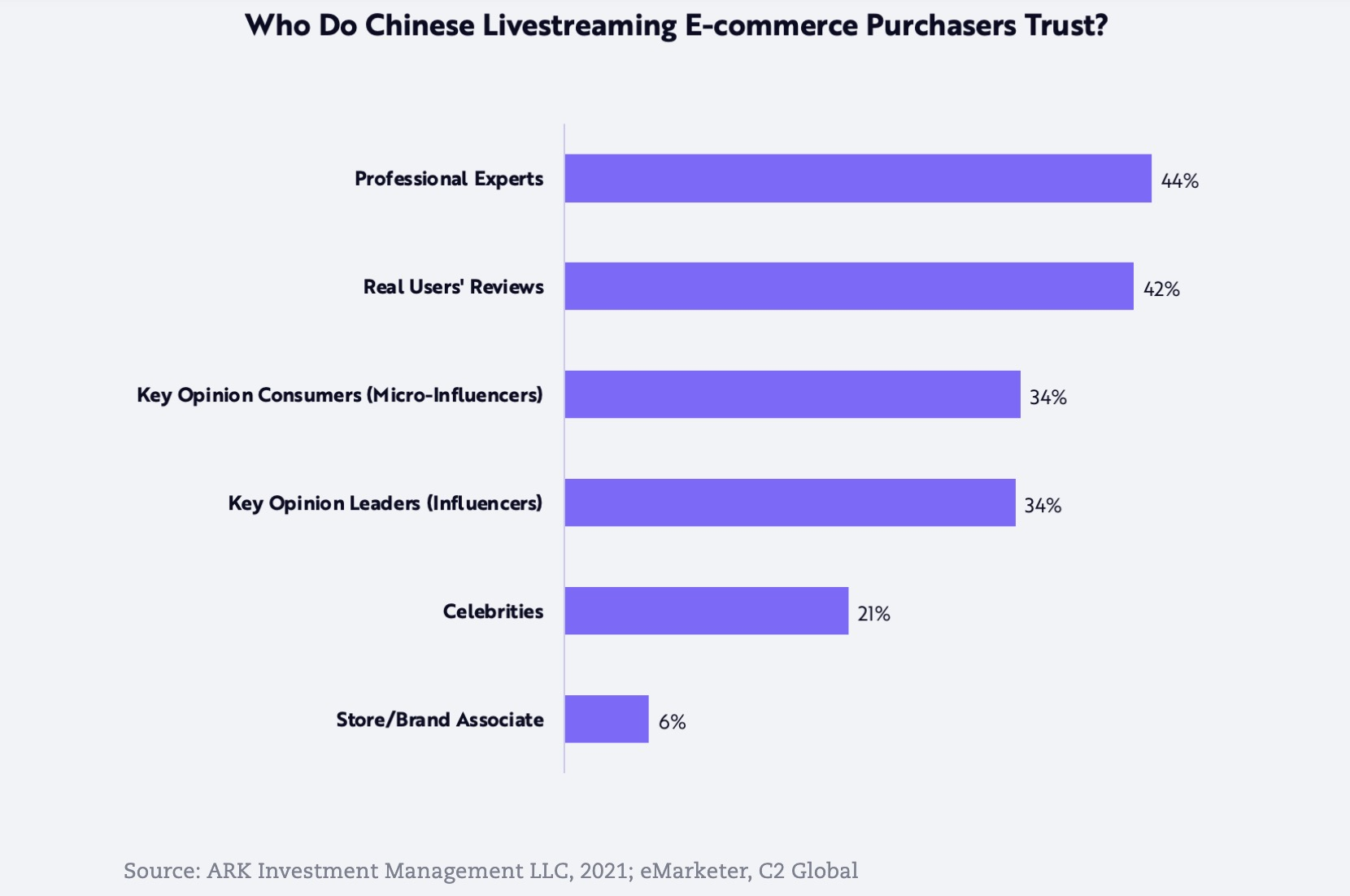 (Source: ARK Investment Management LLC) 
In 2019, Kim Kardashian, a popular US influencer, sold 15,000 bottles of perfume within minutes of her TaoBao live-streaming shopping event. 13 million viewers watched this live video session and 1,000 bottles were already sold in the first few seconds of the event.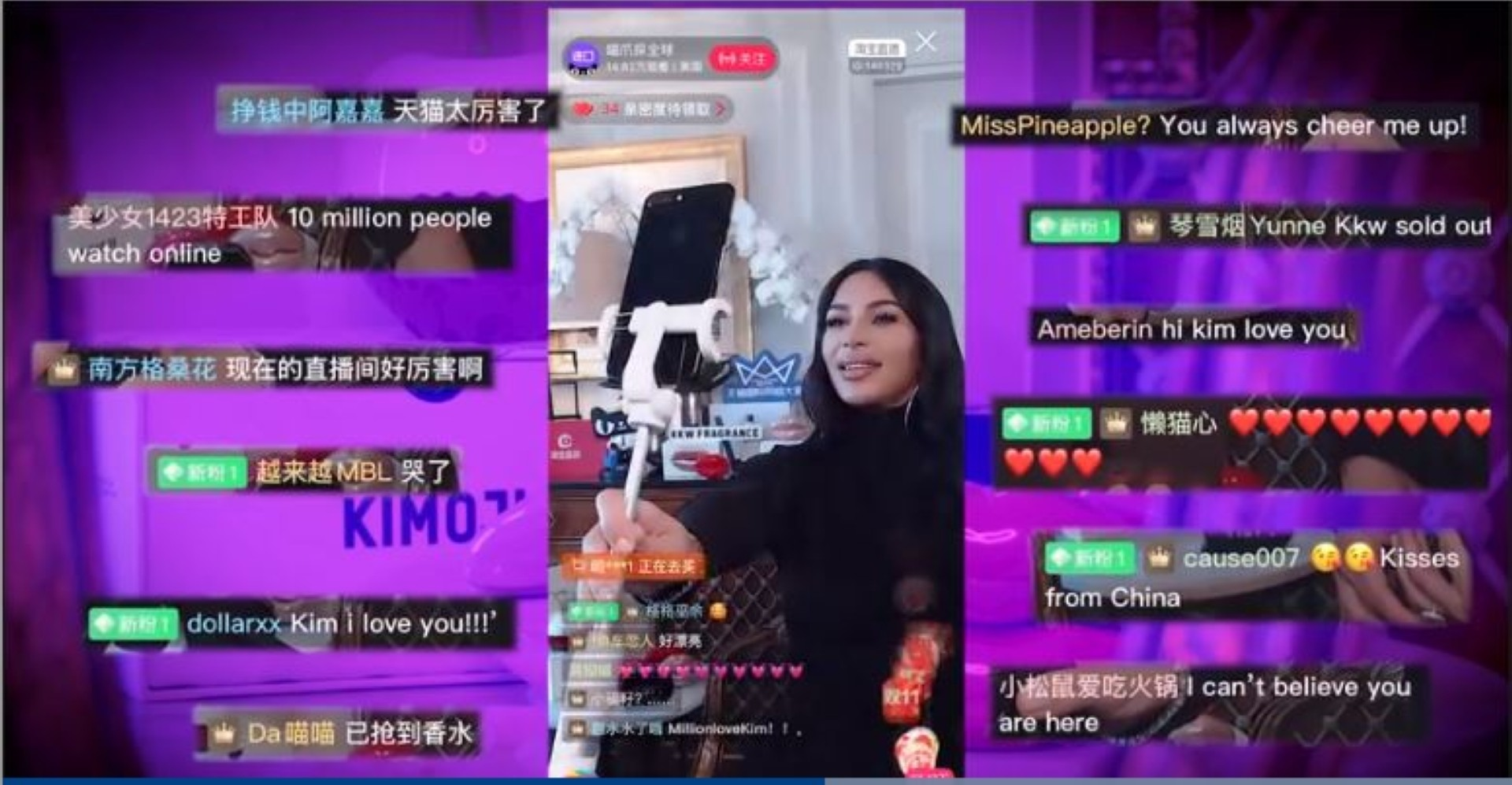 (Source: The Star)
Current trends in the ecommerce live-streaming sector
The live-streaming ecommerce trend is now spreading to the rest of the world. In the US, the trend is taking off rapidly due to the almost exponential correlation between ecommerce sales and social media monthly active users.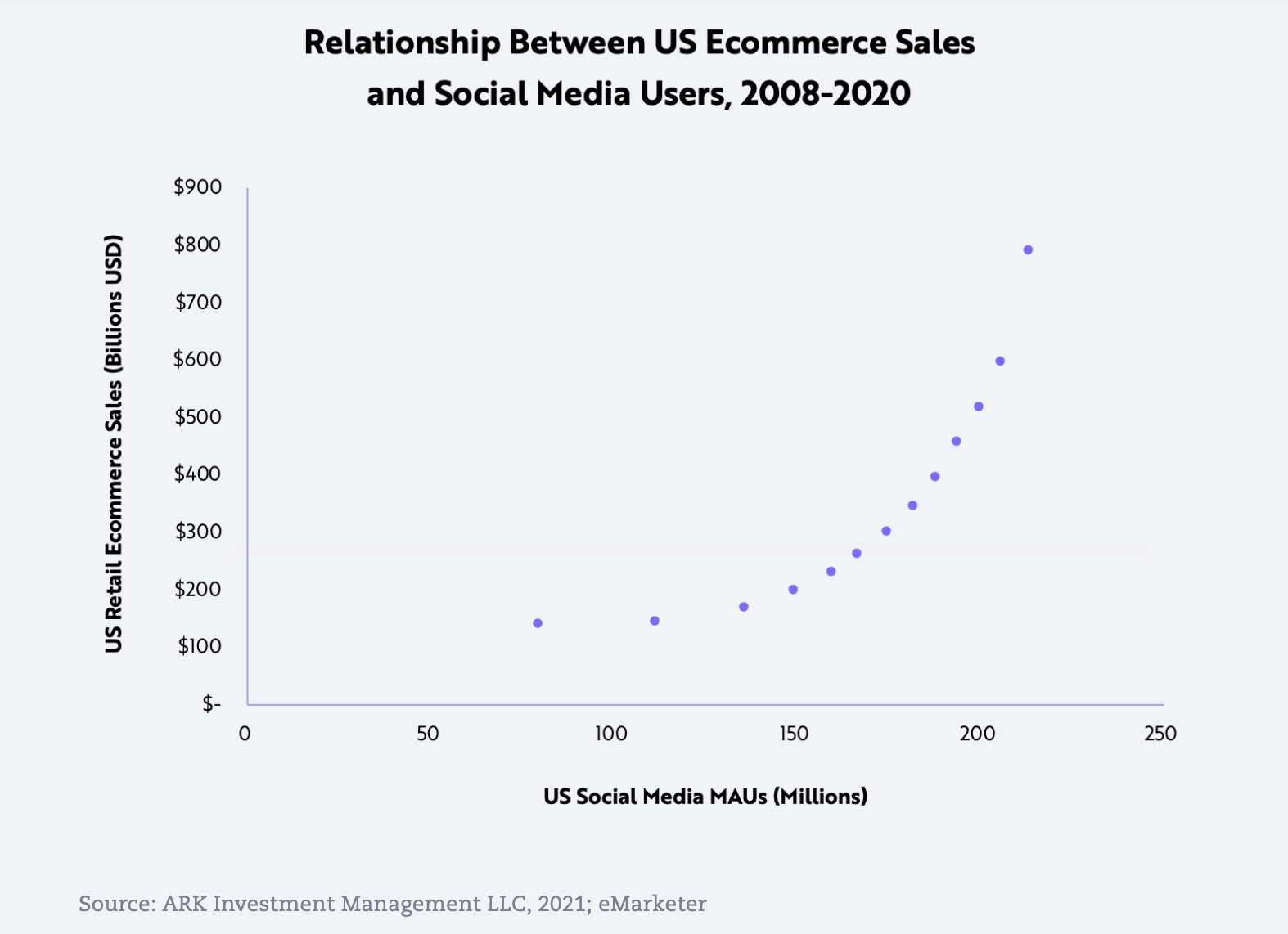 (Source: ARK Investment Management LLC) 
The social aspect of ecommerce is becoming adopted as an essential feature by leading ecommerce marketplaces, such as Alibaba and Amazon. For instance, Amazon has recently launched Amazon Live, with live-streaming video product reviews. The recommended products are displayed directly below the video or inside the video frame, with the interactive chat available for direct communication with the influencers during each event.
An Amazon Live live-streaming event: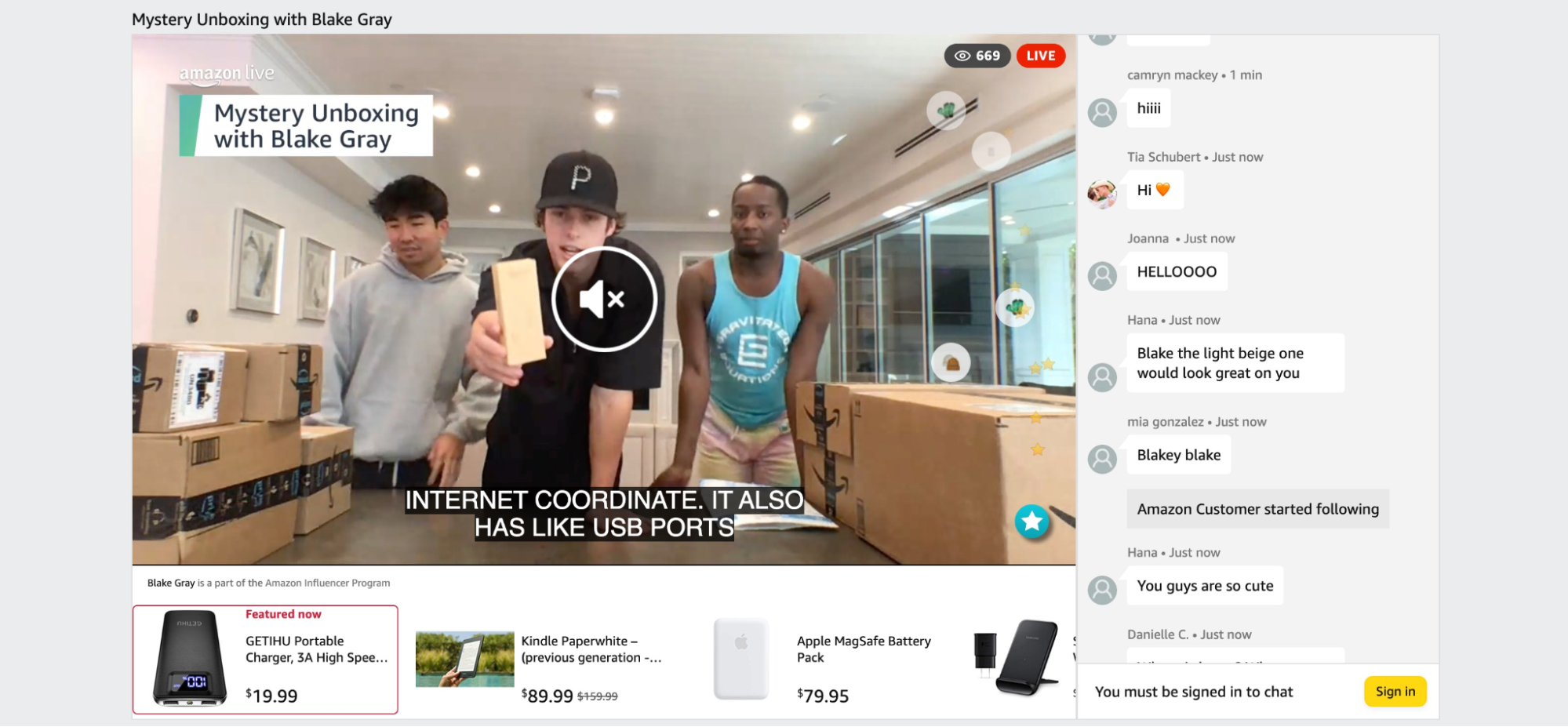 (Source: Amazon Live)
Live-streaming video recommendations are featured under each user-generated live-streaming video: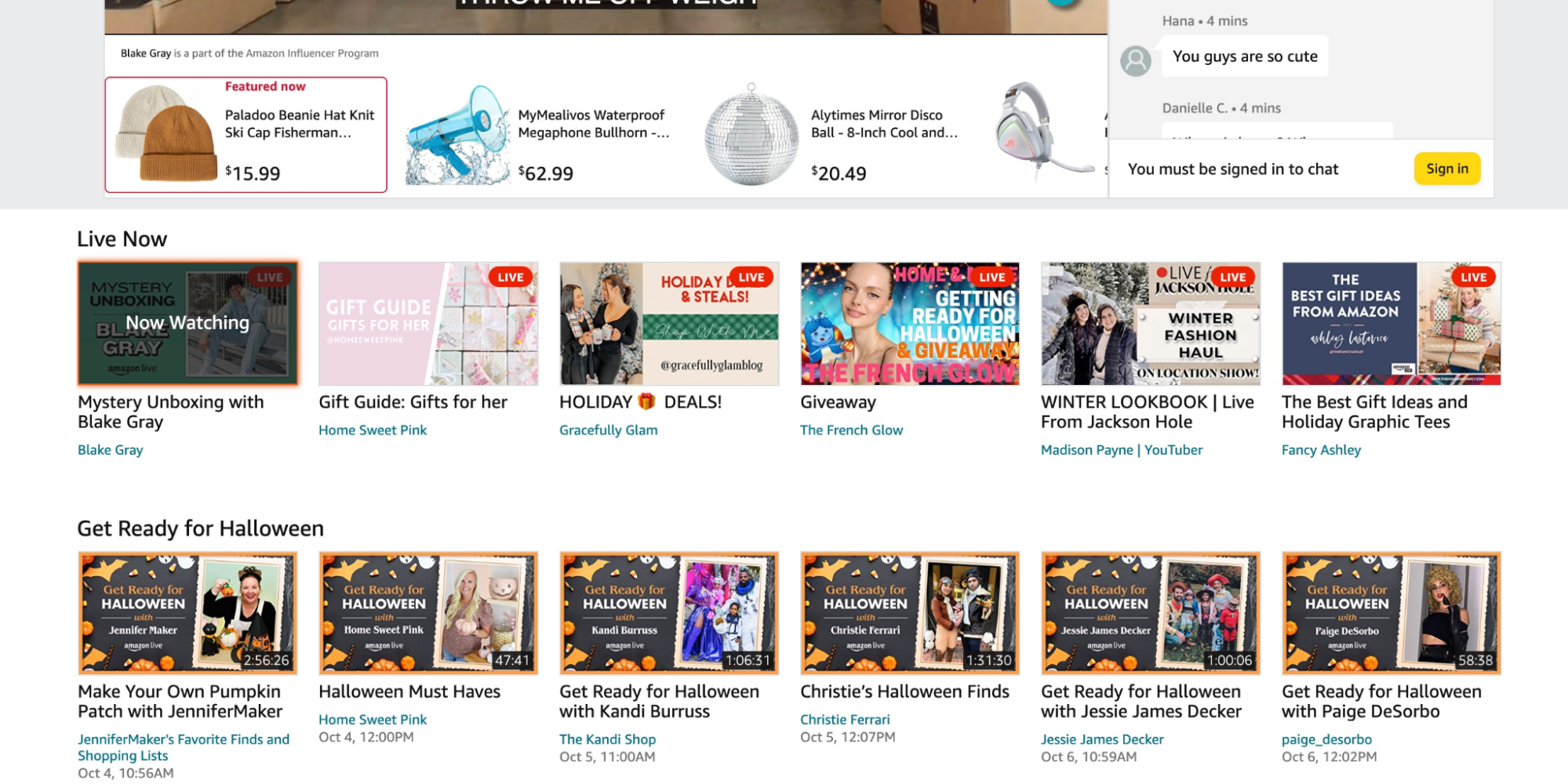 (Source: Amazon Live)
Alibaba's TaoBao live-streaming drove $6 billion USD in sales during the 2020 Singles Day event, a shopping festival comparable to the Black Friday and Cyber Week events in the US (Source: Forbes). 
Alibaba's TaoBao live-streaming events: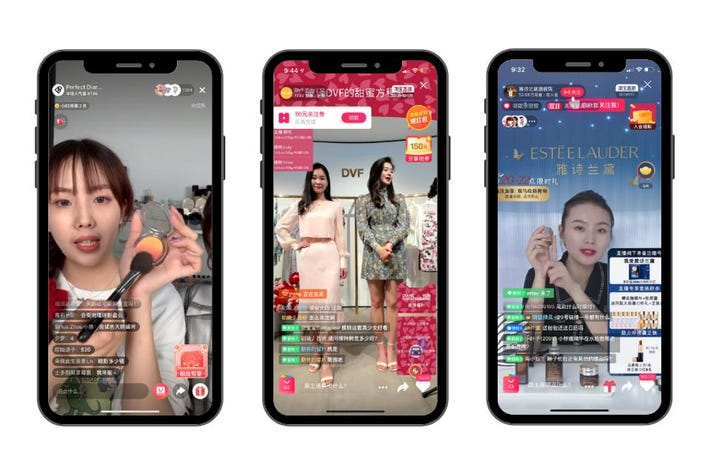 (Source: Forbes)
Implementing ecommerce Live Streaming functionality
Live-streaming commerce market projection is showing rapid growth. From "nice to have", it is quickly turning into "must have" functionality. For ecommerce businesses, especially marketplaces, dealing with extremely large product catalogs, live streaming can exponentially increase product discovery and boost sales.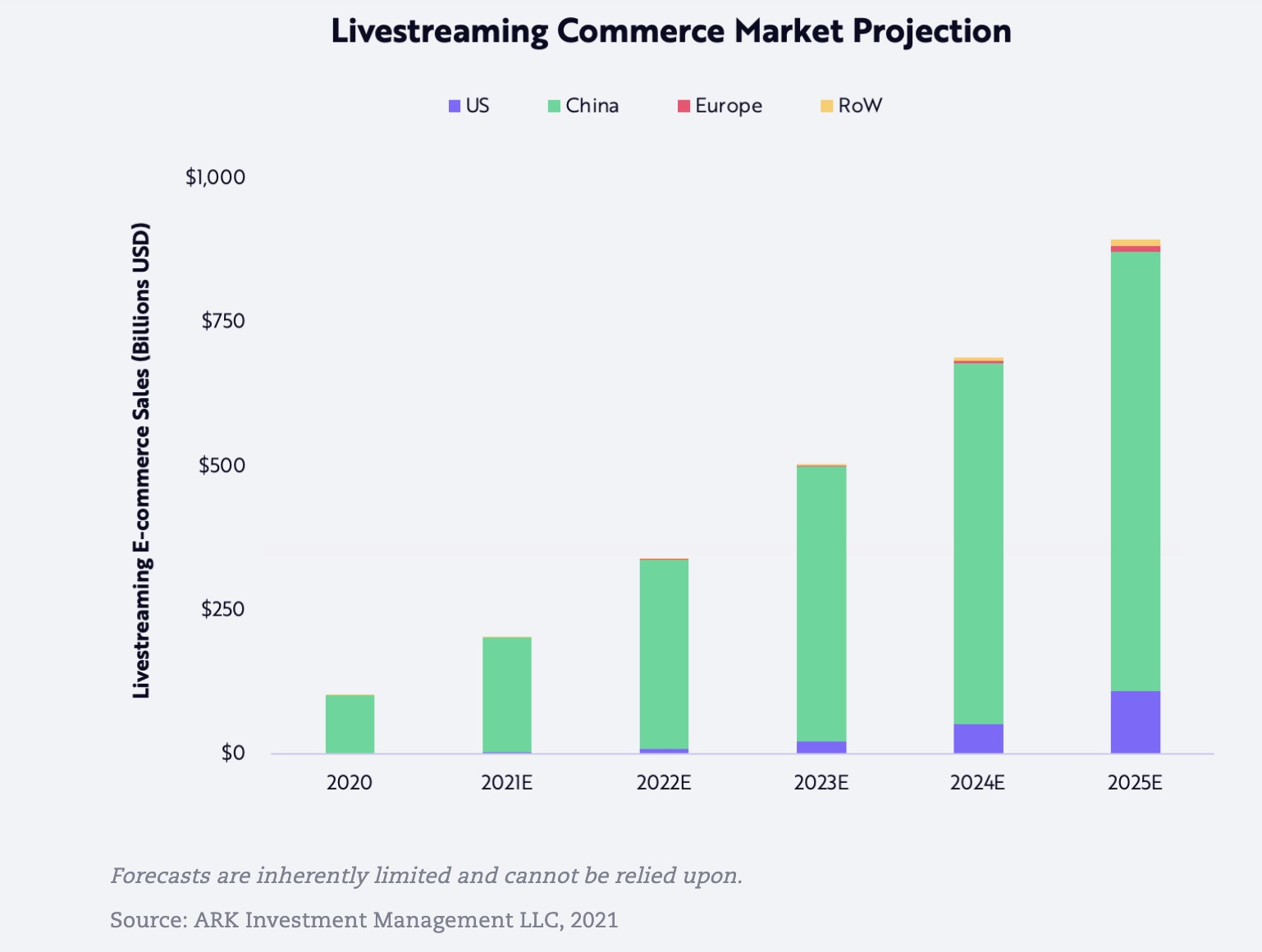 (Source: ARK Investment Management LLC) 
UI elements for live streaming on desktop or mobile devices
Live-streaming window

Live chat where re-direct links can be posted and users can communicate with the live-streaming host

Product suggestions/banners with CTA buttons allowing users to purchase the products during the event

Recommended live-streaming sessions carousels, featuring future events that might be of interest to the users

Login prompt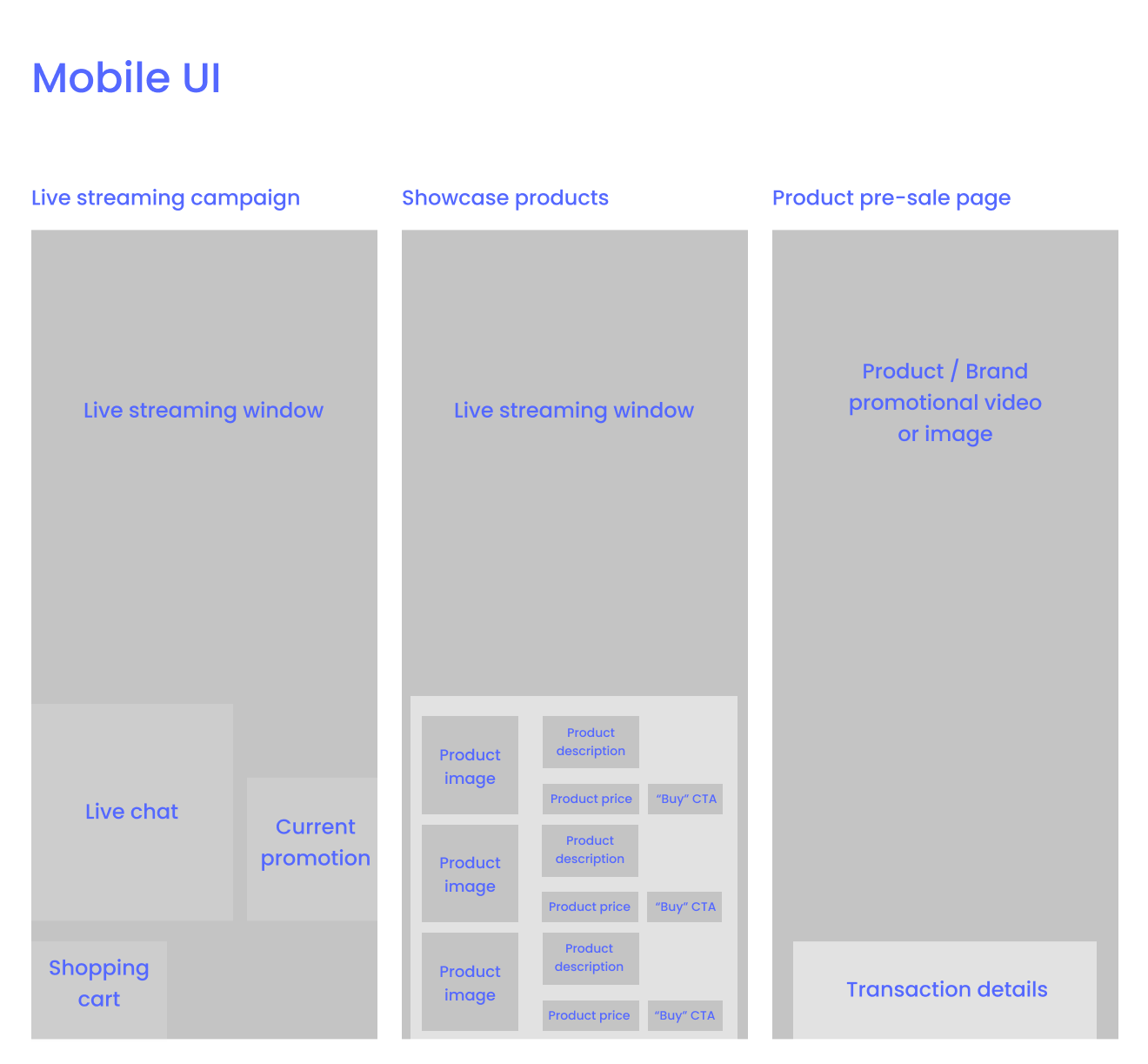 Implementation
Product recommendations:

in addition to static product listings during the live-streaming event, related or frequently bought together products can be recommended to the viewers using a product-recommendation engine
https://www.algolia.com/doc/ui-libraries/recommend/introduction/what-is-recommend/
Upcoming live-streaming sessions can be:

Suggested to viewers using AI recommendation engine
https://www.algolia.com/doc/guides/algolia-ai/recommend/
Personalized according to each user's shopping preferences and online behaviors
https://www.algolia.com/doc/guides/personalization/personalizing-results/
Automatically re-ranked and ordered using AI-based popularity
https://www.algolia.com/doc/guides/algolia-ai/re-ranking/
Conclusion
Live-streaming commerce has grown exponentially in China and is now taking the rest of the world by storm. The social aspect of shopping is rapidly transforming from a "nice to have" to a "must have" capability for the ecommerce industry. Live-streaming commerce market projection shows tremendous growth globally, and retailers need to leverage this trend to increase product discovery, boost sales on their platforms, and take their online shopping experience to the next level – live stream shopping.
About the author