Social commerce is a fast growing segment, currently occupying 7% of the global ecommerce market. It is projected to reach 17% by 2025, representing $17 trillion annual sales.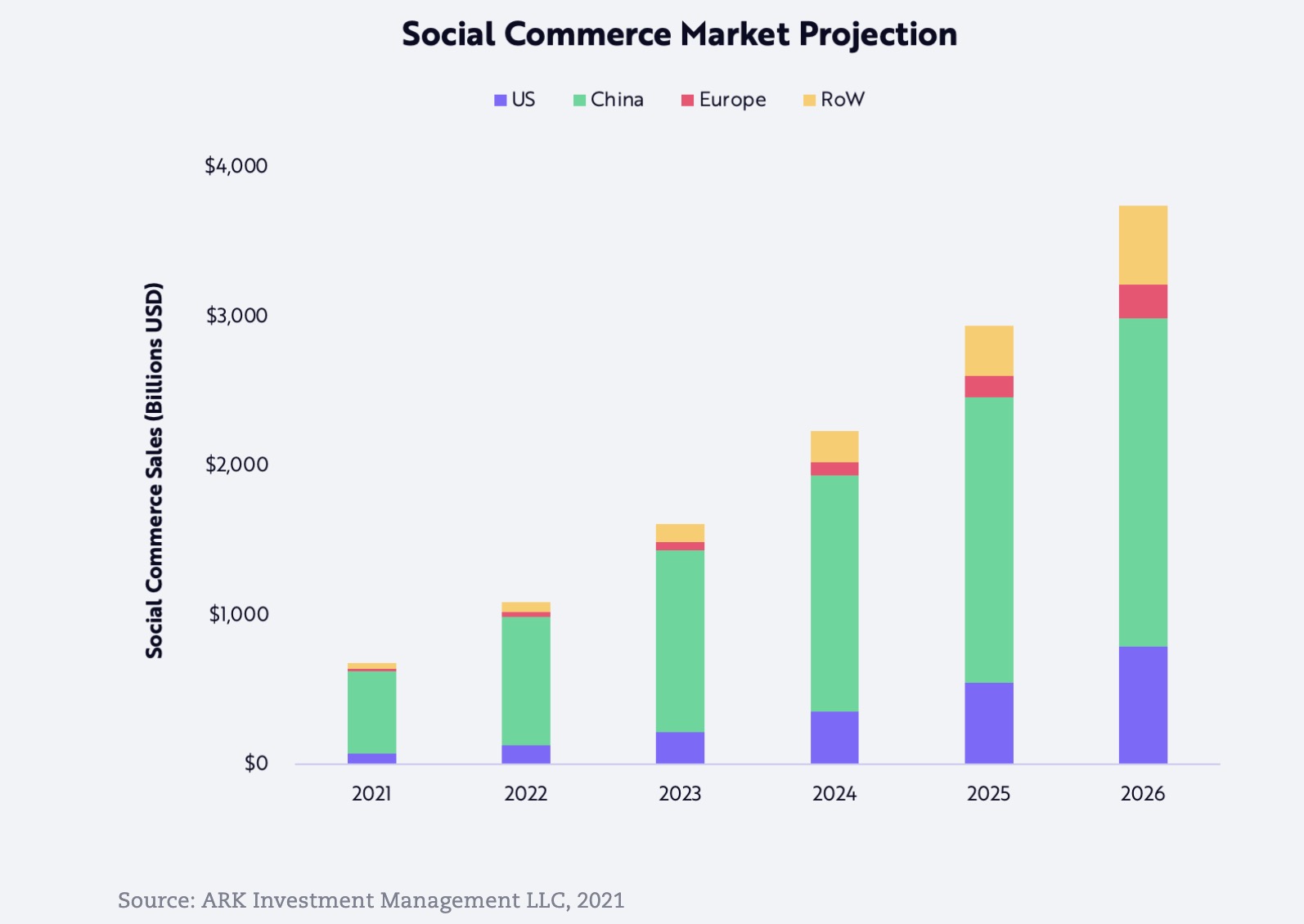 (Source: ARK Investment Management LLC)
While social commerce represents only 1% of total ecommerce sales in the US, in China the market already matured to the size of $390 billion or 22% of all ecommerce sales in the country.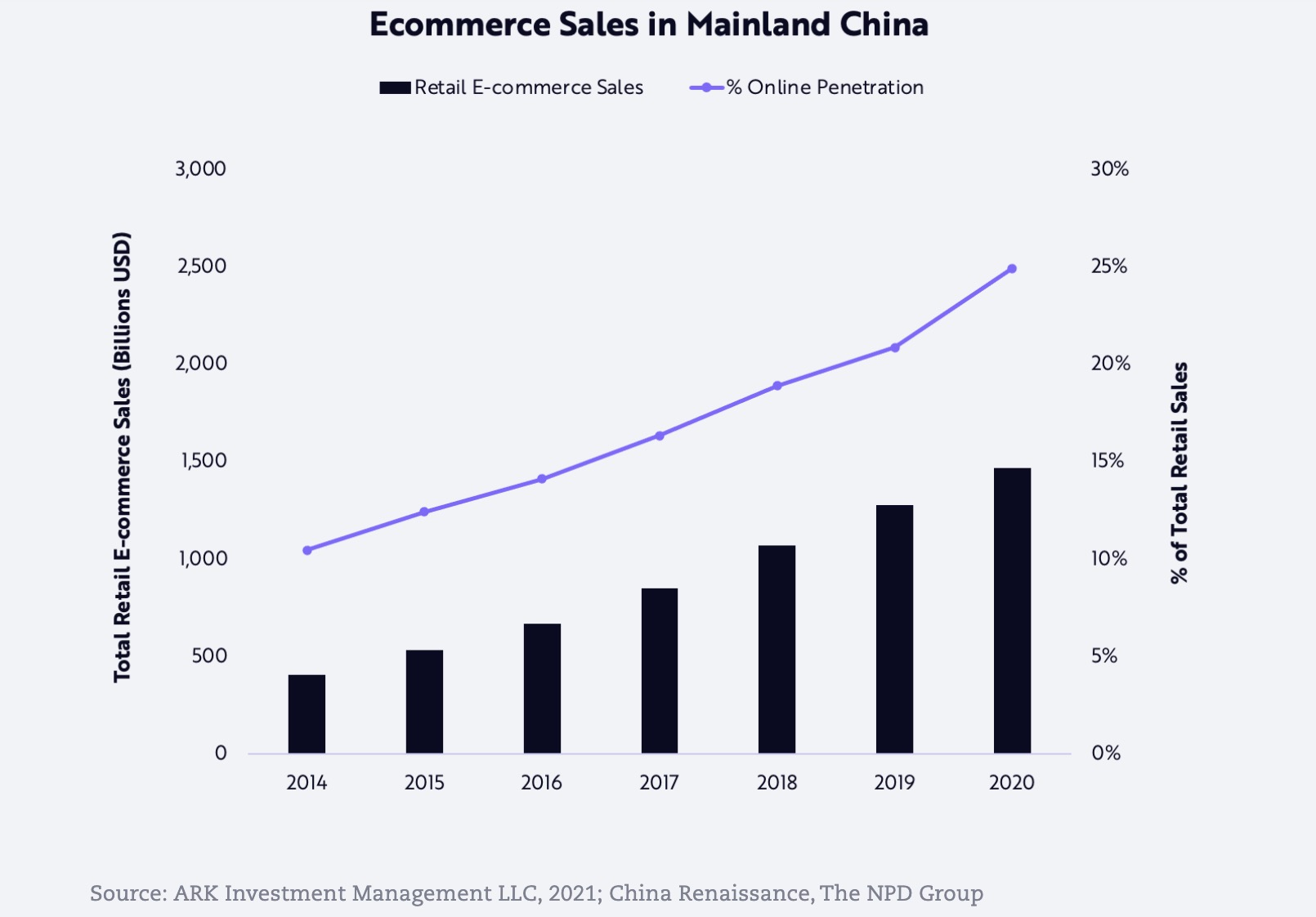 (Source: ARK Investment Management LLC).
What is Social Commerce?
The pandemic has accelerated the popularity of both ecommerce and social media globally. Today, we witness these platforms experimenting with various blends of the two. Social commerce covers a multitude of implementations, such as ecommerce transactions with social features, ecommerce functionality on social media, and social aspects incorporated into ecommerce websites and mobile apps. (Source: ARK Investment Management LLC).
Following WeChat's ecommerce success in Asia, Instagram, FB, Twitter, Snapshot, and TikTok have all added ecommerce functionality to their platforms. Facebook is offering live shopping features, Instagram developed robust ecommerce functionality, Twitter is piloting ecommerce features, Snapchat is investing in Augmented Reality tools to enable ecommerce on its platform, and finally, TikTok has announced a partnership with Shopify to power its in-app shopping experiences.
Social media has proven to drive more online sales in the ecommerce industry during events, such as Black Friday 2020. For instance, over the Thanksgiving weekend, social media drove 1 out of 10 visits to retail websites, a 17% YoY increase. (Source: Adobe Holiday Shopping season report 2020.)
Implementing social media commerce
The rising trend of social commerce opens an opportunity for retailers and marketplaces to combine their ecommerce industry expertise with the interactiveness of modern real-time online shopping experiences, in order to actively and intentionally influence purchase decisions. 
Functionally, social commerce can be implemented in different ways, matching the brand's vision, company's capabilities, and end-customer's online shopping behaviors and expectations.
WeChat integration: 
Integrate your product catalog with your WeChat store

to enable omnichannel ecommerce digital experiences by connecting the WeChat app in real-time to a stock management tool. This will allow your ecommerce company to power a highly personalized and precisely targeted direct-to-consumer (D2C) sales and digital marketing strategy.

Include WeChat QR code on your site or in your product recommendation emails/outbound email campaigns, to eliminate frictions in the shopping process and ensure that your customers always have an easy and convenient access to the platform of their choice.
Integrated social media lookbook or gallery
Feature a collection of selected user-generated content from social media platforms on your website. For instance, integrate an Instagram inspiration gallery on the landing page of your ecommerce site. The gallery will feature a curated selection of the social media post featuring products you would like to promote or showcase. 

You can optimize the content presented to your users by matching the products featured on social media sites to each category or search results page, re-ranking and re-ordering the content to ensure that the most popular items are displayed first. Additionally, for registered users, you can personalize the content, to ensure that they always see the most relevant items matching their unique user profile.
User-generated content on product listing pages
Showcase products from your catalog featured in user-generated social media posts on relevant product pages. You may want to use AI recommendations to feature social media posts featuring additional products from your catalog, such as related products or frequently bought together products.

Feature user-generated product reviews on the product listing page. Baymard Institute's

research

found that "User-generated product images can enrich and complement existing images by making products — and the sites that sell them — seem more trustworthy". 
Live streaming commerce
Use live streaming commerce to accelerate the purchasing process. During the event, the host (influencer, brand representative, celebrity) will present the product and recommend it to the viewers. The viewers can ask questions in real-time and get the answers directly from the host. This type of influencer marketing is an incredibly powerful way of giving your brand credibility with potential customers who often purchase products based on social proof, as well as the person who is marketing them.

Accelerate the product checkout and purchase process by setting stock- and time-limited offers, available only for the duration of the live streaming session. 
Learn more about How to increase and accelerate consumer demand using live streaming.
Conclusion
Social media represents a lucrative opportunity for the ecommerce industry not only as an advertising tool but also as a fully functioning ecommerce platform. Integrating social media ecommerce in the sales workflow offers companies an opportunity to benefit from a growing market segment and stay connected to their customers by keeping up with their shopping needs and habits, and delivering an enhanced customer experience.
About the author