Continuing with our Composable Commerce series, where we've covered such topics as ecommerce product-discovery, inventory management, and in-store kiosk and store locators, we'll now take on social media, instant messaging, and voice technology. 
In today's world, new technology frequently changes our daily routines and habits, such as the way we shop. For retailers to stay connected to their customers, it's essential to react quickly to new technological trends and adapt to the changes in customer behavior and new shopping habits.
Voice assistant 
App: Algolia integration with Google Home / Alexa voice assistants
Medium: Online/Remote
Goal/problem solved: 
Integration of online shopping experience with the user's preferred medium or tool

Adaptation to the user's shopping habits
Main user: 
Meet you shoppers where they are! Retail shoppers develop distinct online shopping habits and preferences. Google Home and Alexa are the mediums and tools of choice for many people in their retail shopping experiences. Successful retail brands adapt quickly to new technological advances and support their customers' journey by integrating their brand's online presence on these popular platforms.

Social media
App: WeChat app integration
Medium: Online
Goal/problem solved:  
Direct-to-consumers sales and marketing
Main users: 
End-customer shopping via social media platforms

Main geographic area: Asia (China), where this social platform is widely adopted
Leverage social media platforms that customers are already familiar with. Make them an integral part of your sales and marketing workflow. For a retailer with a large presence in Asia, WeChat is the intuitive choice. The platform is widely adopted and customers are comfortable with using it for online shopping. Integrating WeChat in real-time into a stock management tool, to easily match the retailer to the shopper, allows a highly personalized and precisely targeted direct-to-consumer (D2C) sales and marketing.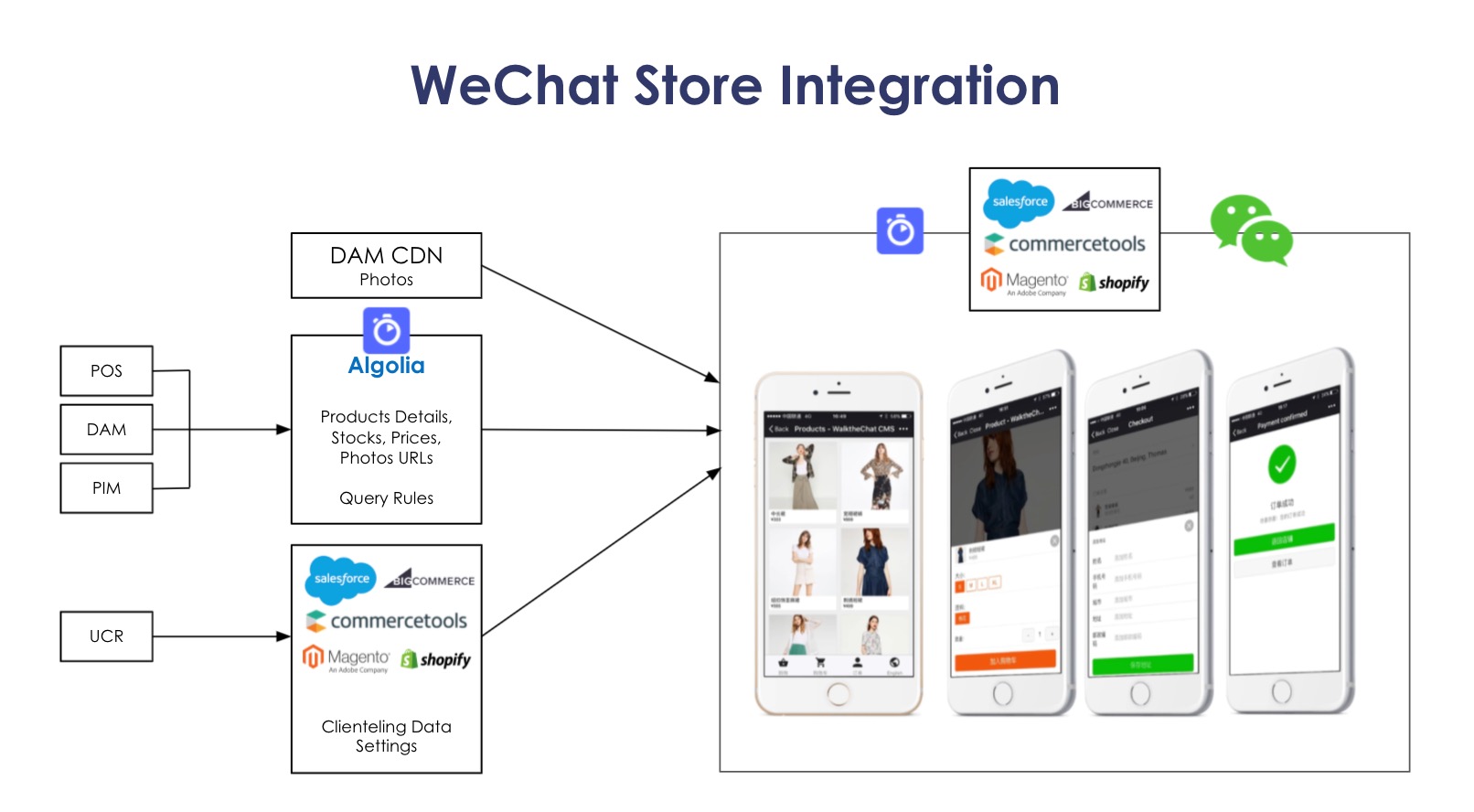 Composable Commerce doesn't stop here …
The constantly evolving technology shapes not only the habits and expectations of the customers, but also entire industries. To be ready for the fast approaching future, companies need a modular and flexible foundation, coupled with an organizational cultural shift towards innovation and new trends adoption.
This is what Composable Commerce is all about: There's no one-size-fits-all solution; instead, there are numerous creative ideas that can leverage new technologies to allow the retail industry to step outside their ecommerce bubble. By integrating a composable architecture, retail companies are able to implement an omnichannel presence, thereby strengthening the connection with their customer base and gaining brand loyalty to continually achieve their business goals.
About the author