Headless, composable architecture creates a critical flexibility when building engaging and adaptable product search and discovery interfaces that ensure conversions and increased transactions and ordering. In this article, we discuss how these 3 ingredients, or steps – headless/composable, search/discovery, conversion/engagement – function for a modern, competitive B2B business.
Step 1: Headless/Composable architecture to replace legacy monolithic platforms
Gartner predicts that "By 2023, organizations that have adopted a composable approach will outpace the competition by 80% in the speed of new feature implementation."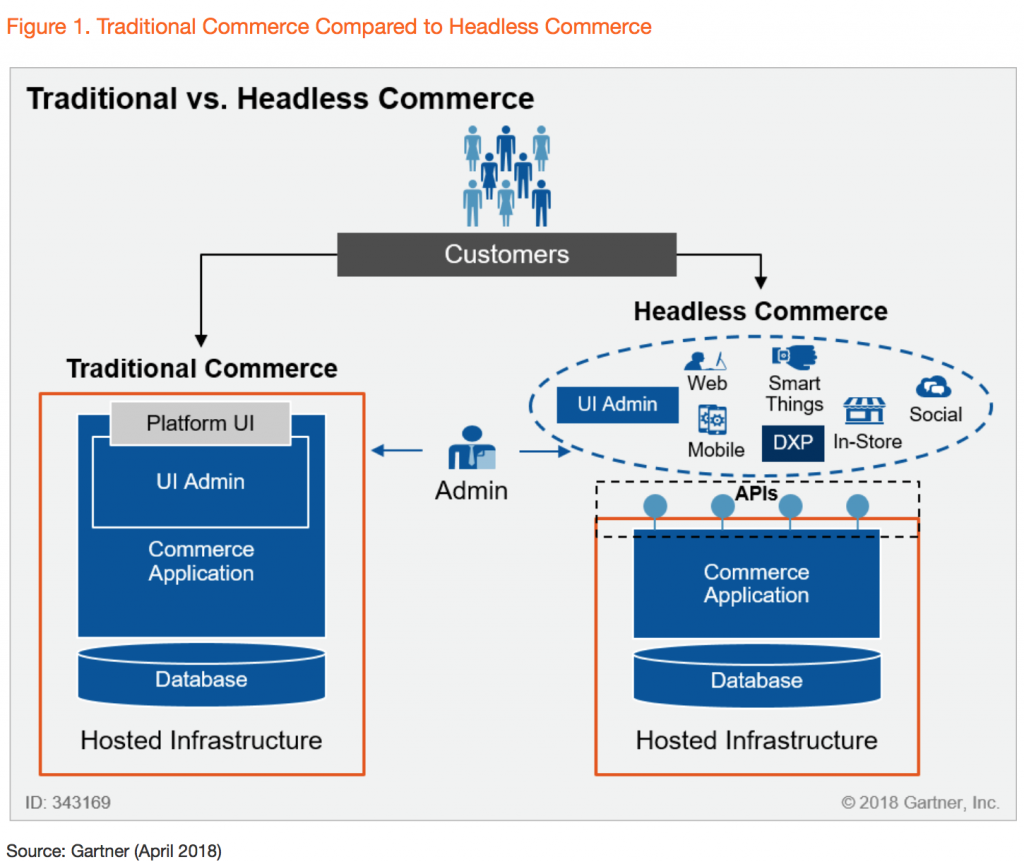 Headless architecture allows freedom and flexibility by removing the link between front-end and back-end. Site content and UI elements can be instantly changed with no effect on the back-end infrastructure. The modern API-first approach offers internal teams (product, marketing, and merchandising) to iterate online omnichannel experiences and test new strategies with high agility and scalability.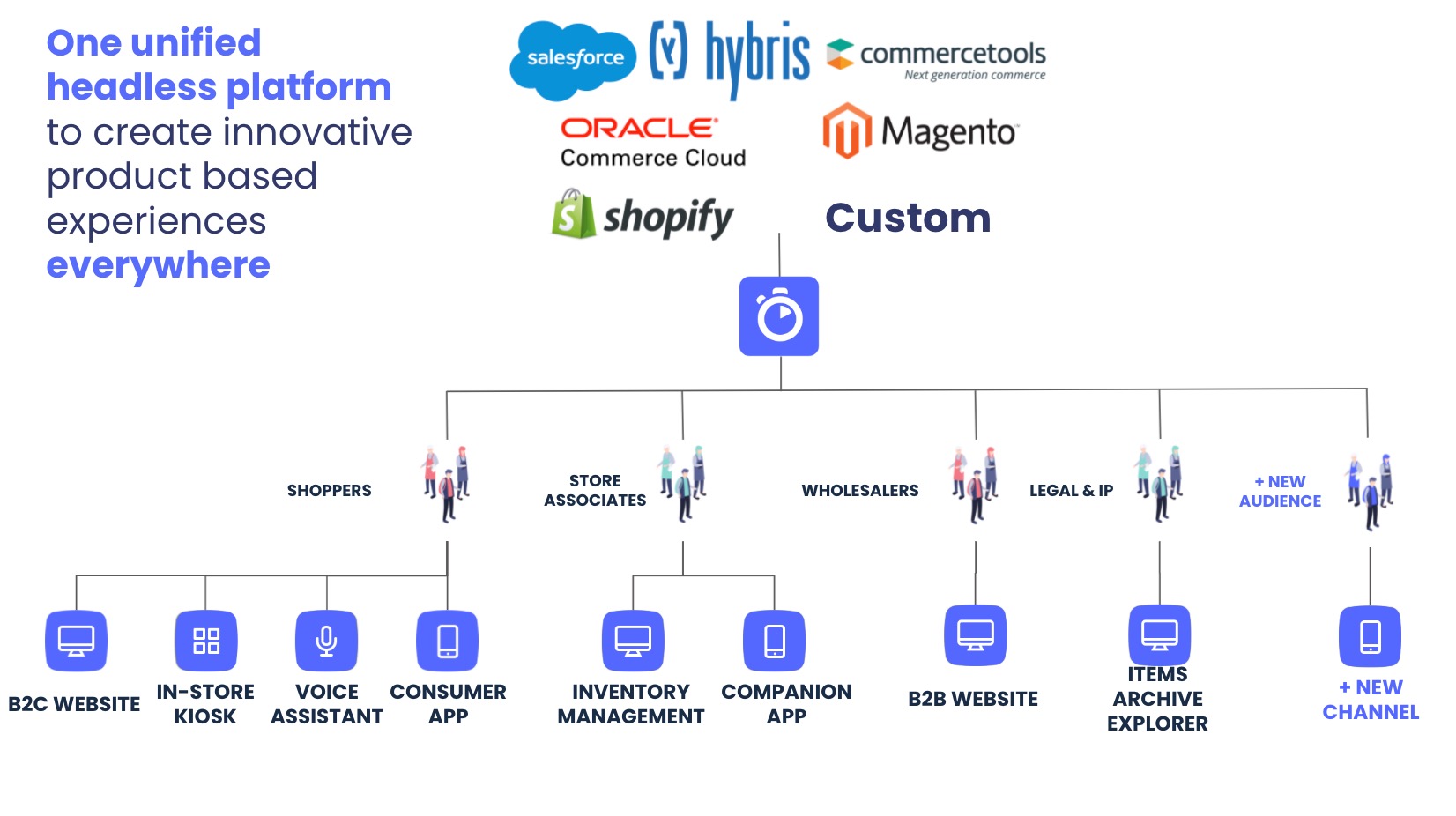 B2B Industry leaders, such as Dell Technologies adopt headless, API-first architecture for their ecommerce platforms. The benefits of the headless/composable approach compared to legacy monolithic solutions are highly impactful for any organization:
Fast innovation: deploy new features rapidly, have greater control over each feature

Lower maintenance costs: have the flexibility to choose the elements and functionality, get automatic software updates instantly

Adapt and change easily to any changes in business needs
Composable architecture enables B2B companies to implement an omnichannel sales model, which has proven to be more effective than traditional approaches. Recent research published by McKinsey identified omnichannel as a "critically important fixture for B2B sales globally", with 83 percent of B2B leaders declaring it as a more successful way to prospect and secure new business than traditional, "face-to-face only" sales approaches.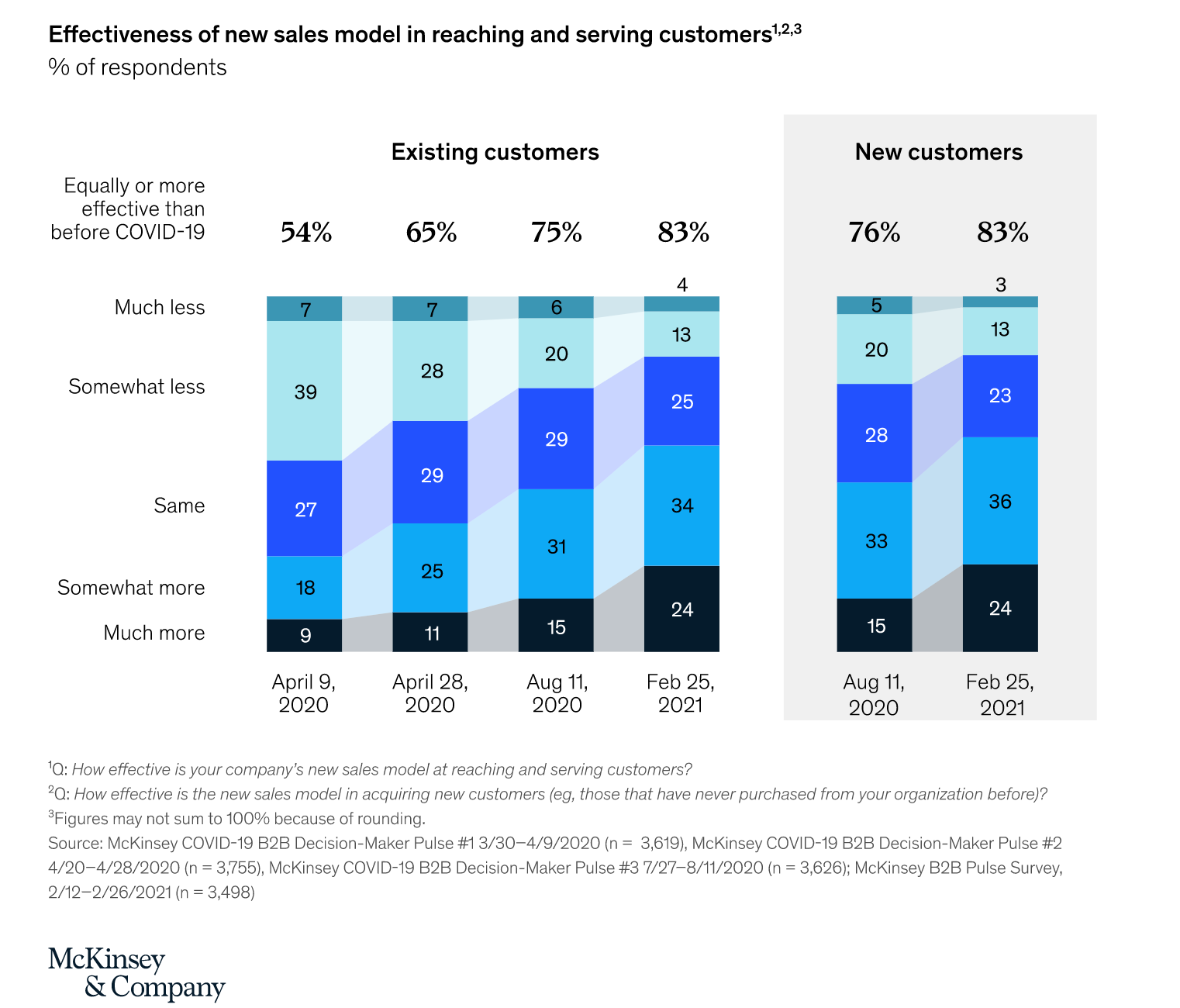 Moreover, the omnichannel model pattern holds true across multiple geographies, showing enthusiastic adoption trends by B2B companies globally.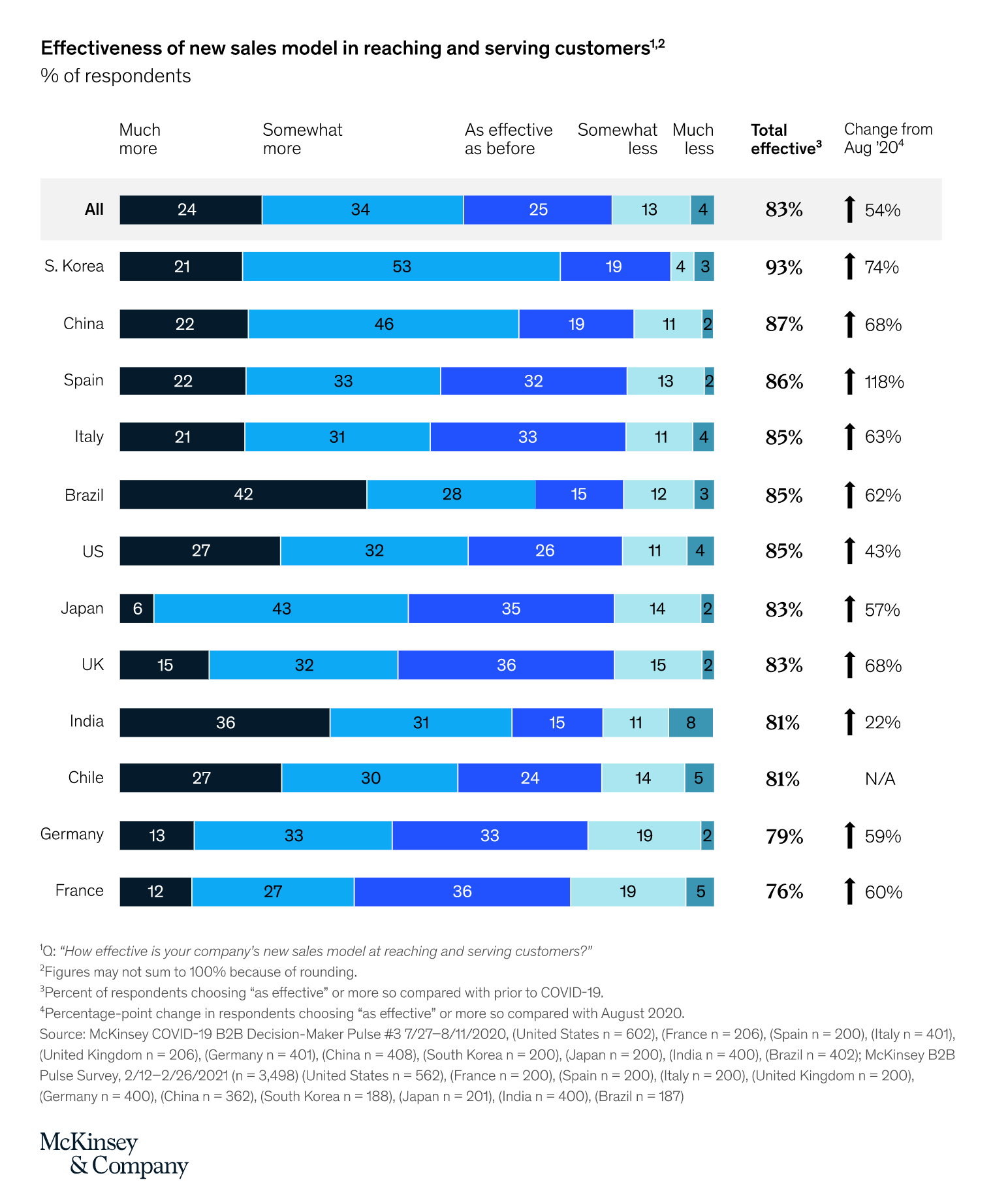 Step 2: Product search and discovery
According to Forrester, 92% of B2B purchases start with search. Additionally, Baymard Institute's recent research found that "Product Type" searches (e.g., "boy's hoodie", "sandals") are almost always the first interaction of users with a site. Product type queries help shape users' early impressions of what's available. It is critical to get search relevance configured right to provide relevant results even when user queries don't match a site's precise category descriptions. When search results give users the impression of limited or undesired inventory, the risk of abandonment increases significantly.
Unify product catalog and ecommerce functionality into a single UX, optimized for multiple platforms

Product catalog and shopping platform must be unified

Supporting content, such as spec sheets, documents, and papers required to be presented due to various regulations during the sale process and similar documents, should be accessible via a single search bar and linked to a specific product or product category

Architecture needs to couple the search engine with the pricing engine. 
Note: For the cases where pricing is dynamic and product prices change frequently, a pricing engine solution should offer real-time pricing data for any pricing complexity level.
Product catalog structure: plan which searchable attributes to include (size, product type/category, brand, color, popularity)

Relevance settings: ensure fast and efficient product discovery and include and configure B2B specific functionality (e.g. search by SKU)

Merchandising: automate products merchandising for campaigns and promotions with tools such as: 

Relevance rules (e.g., promoting specific products to the top of the search results list)

AI dynamic re-ranking

AI synonyms suggestions

Personalization

Product recommendations
Step 3: Conversions, transactions, and ordering
What are some of the elements to increase conversions and user engagement?
Personalized pricing: ensure that each of your business customers is seeing their own custom pre-negotiated prices, discounts, and shipping information, updated in real-time

Checkout process simplification: ensure an efficient checkout process, while including all the relevant order information, such as stock/inventory data, tracking, and shipping.

Fast and easy re-ordering: B2B shoppers are recurring buyers most of the time; therefore, the re-ordering process should be streamlined and simplified (e.g., personalized search by alias, personalization of search results pages and browse pages, a quick-order button which lets B2B shopper to simply paste the SKUs of the products they want to purchase)
A decision process of choosing the right search and discovery engine for digital transformation of a B2B commerce company:
Timelines and urgency

B2B shoppers are already well accustomed to the B2C online experience

. Their expectations of the B2B world are to match the trends and best practices of B2C ecommerce. Users don't want to wait any longer today, which poses a risk of churning for B2B organizations lagging behind on online B2B shopping experiences. Therefore, the urgency and priority for digital transformation needs to be high.

Infrastructure

Performance. There is a clear advantage for a 3rd party engine specifically designed and built from the ground up for speed in critical functions such as search and indexing. You should expect the search engine to deliver lightning fast results and be easily replicable from one platform to another.

Reliability. A solution that doesn't require security or maintenance patches, presents a better alternative to a product with high security maintenance demands.

Scale. The need to provision for scale requires vigorous effort and often doesn't get implemented well due to time constraints, lack of engineering resources, and budgeting limitations. An optimal solution needs to be able to handle large data volumes at any scale.

API first vs monolith solutions: the composable/headless approach is an essential tool for future-proofing the company to new trends and challenges. 

Easy to build and iterate. The search engine solution should be fully documented (API Clients, front-end libraries). There should be no need to start from scratch when opening a new channel or deploying to a new country or region.

Easy to connect / ready for a headless experience. To successfully implement an omnichannel sales model, the search engine needs to connect to all customer touch points. Omnichannel is key for the B2B industry and an optimal way to do business, for instance, ​​apps for salespeople, online catalog, exclusive apps for refurbishment offered only to a specific set of customers, customer support tools, and more.

Relevance management

White box approach. The search engine should provide transparency over the algorithms it uses to to give control to business teams over ranking and relevance strategies 

Dashboard. To function efficiently and react quickly to business trends and challenges, business teams should be able to manage the relevance from a user-friendly dashboard without the need to rely on IT on a daily basis.
Performance, reliability, scalability, and flexibility are the four essential benefits a search and discovery engine should provide to the B2B commerce organization. Open source solutions such as Elastic and Solr are highly resource intensive, requiring a significant amount of engineering resources to maintain and update. While open source solutions appear to be "free", their implementation and maintenance are costly and time consuming. These difficulties pile up on top of additional challenges, such as lack of transparency regarding the search results ranking algorithms. On the other side of the spectrum are the easy to implement solutions, which are limited in flexibility and scalability, due to their reliance on open source solutions and a cookie-cutter architecture and design. Those solutions suffer from opaque ranking algorithms limitations and are known for their unpredictability when faced with the need to implement modifications or customizations to the relevance ranking of the search results. These will present a significant disadvantage for any B2B commerce company, which are likely to be in need of multiple product modifications. Algolia offers customers a wide range of customizations, to ensure that the product meets each B2B business' unique requirements and offers the scalability and easy replication from one platform to multiple others.
About the author