Directly addressing each and every customer through personalization is the key to winning in this tough market. Such customer loyalty is what differentiates a successful eCommerce brand from the competition. In other words, the cookie cutter approach to online marketing is a thing of the past. Companies need to adapt to their target audience by capturing every signal from various customer behaviors and interactions, analyzing the data and applying it across every channel in real time. 
This article showcases eCommerce's best practices for personalization. Learn from the success of popular brands who have created a wide variety of personalized shopping experiences. See how personalization takes their online business to the next level of customer loyalty.
Part 1: Best practices for personalization — search results and category pages
One of the most impactful benefits Algolia offers is creating a more unified personalized experience for both search and category pages. Applying Algolia Personalization to both these pages ensures a more consistent and personally relevant experience throughout their user journey.
Personalized search results for a Sports & Goods retailer: Gymshark
Gymshark ensures that each shopper sees the products most relevant to their unique preferences by combining events and facet values to create user profiles. For example, Gymshark's personalization strategy includes events such as user clicks on products that appear in the search results, clicks on filtering facets and "add to cart" buttons, and other such events.
Personalized search results are returned based on matching the query and then boosting some items based on a user's specific profile preferences for activities, color, features, and fit. The logic behind the personalization strategy for each user ID will sound like this: "You bought mainly women's products in purple that are made for yoga; let's show more products like that next time you visit". 
You can implement Personalization in three main steps:
Send user data to Algolia (requires coding):

Plan which user behavior to track

Send click and conversion events along with user tokens to Algolia using Algolia's Insights API. The user token allows Algolia to identify the user who performs a specific event

Configure Personalization Strategy: 

Use Algolia dashboard to configure the weighted importance of each event and facet

Use Algolia dashboard to simulate and test your Personalization strategy

Enable Personalization in production: 

Add an additional parameter to every query to enable personalization 
To clarify, Gymshark's success indicators:
Search conversion rate: from 6.2% pre-Algolia to an average 10% and climbing

Orders originating from a search: from less than 10% pre-Algolia to more than 30% increase for Black Friday 2020

Revenue from search users climbed up by 400% YoY
Personalized search results page for luxury fashion marketplace: The Real Real
The one-size-fits-all approach to Personalization doesn't work well. Different business objectives require different strategies. Therefore, each company will need to analyze their specific use case and configure the personalization strategy based on three main questions:
Which events should you include, and how important are they relative to one another?

Which facets should you include, and how important are they relative to one another?

How significant an impact should Personalization play in your relevance?
For some industries specific facets or events might have higher importance than others. User behaviour on a luxury goods site like The Real Real, which feature multiple brands and product types, might not be similar to the user behavior on a sports attire retail sites like Gymshark, which offer more specified products produced by a single brand and a significantly lower number of product categories. 
Thus, for The Real Real, they've chosen a personalization strategy that relies on user clicks on faceting, product views, "add to cart" CTA buttons, and conversions defined as completed orders. Personalized search results are returned based on matching the query and then boosting some items based on a user's specific profile preferences, such as designer name, closing size, color, gender, metal type, and ring size. 
Personalized category page for eyewear retailer: EyeBuyDirect
Shoppers on EyeBuyDirect's website enjoy a consistent, personalized experience. For example, when users browse to the "women's glasses" category page, the results are boosted based on each user's unique preferences, such as frame style/shape or materials. Algolia Personalization takes signals for all industries, in this case frames, which is a great fit for the eyewear industry use case. In other words, there's no limit to the kinds of information that can be personalized, as you'll see with the other companies in this article. Each time users navigate through the site, they see product results customized to their browsing behavior, history, and user profile. 
EyeBuyDirect's success indicators:
4% more revenue with search, increased browsing, and personalization

1 – 1.5% improvement in conversion rate with product recommendations
A/B testing personalization on search results and category pages for retailer: Honest Brew
Honest Brew runs A/B tests to evaluate different personalization strategies for their category page browsing and search result pages. Based on unique user preferences for price, beer style, volume, and more, Honest Brew fine-tunes their personalization strategy to improve click-through rates and customer conversions with real-time traffic in a low-risk environment.
Part 2: Additional personalized experiences
Saved search and notifications for fashion marketplace: Mercari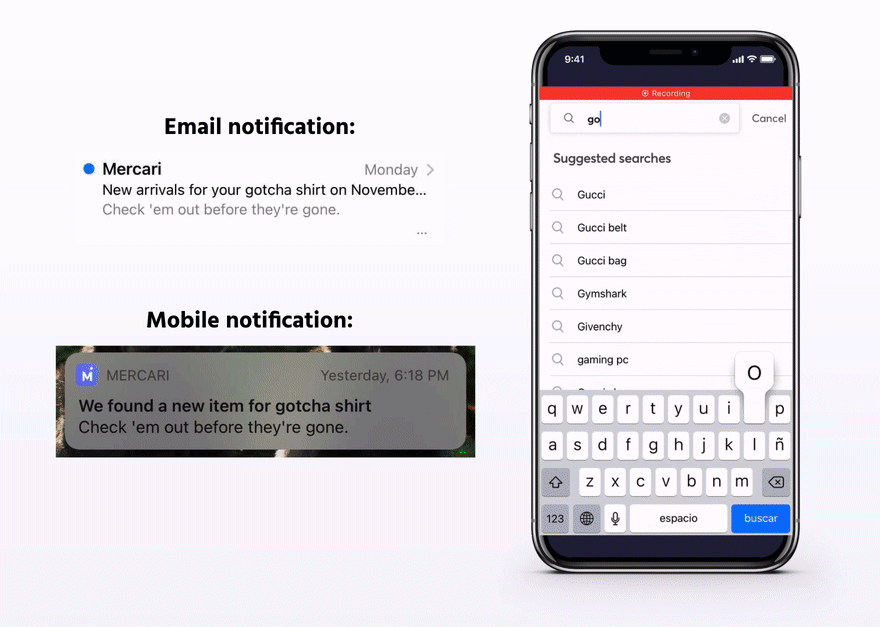 On Mercari's marketplace, when users can't find an item from the search, they can choose to save that search. As a result, Mercari can notify users whenever an item that matches the search query gets listed.
Saved search alerts with Firebase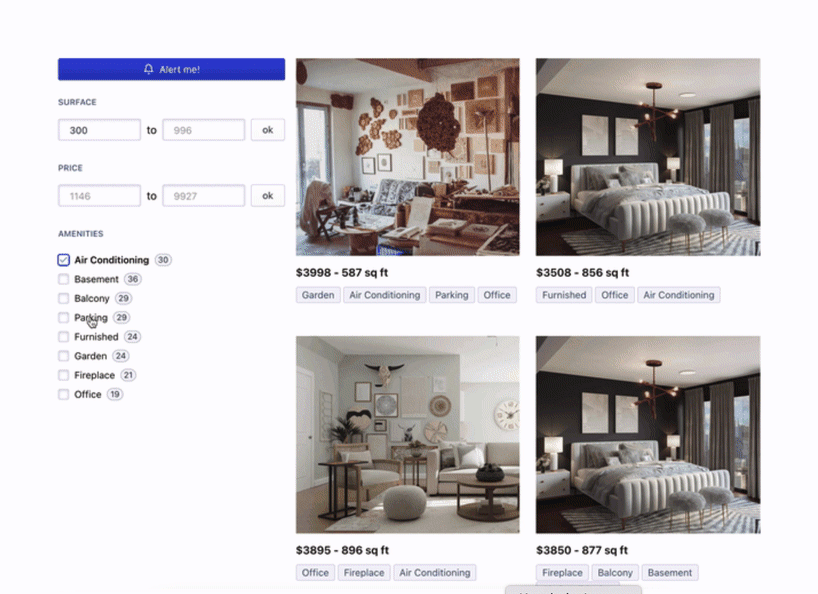 Automatically notify customers when new matching items become available. Saved searches are great for automating repetitive search queries, and to keep up to date with changing content, for example, on websites with real-estate listings and online marketplaces.
Personalized filters – user preference setting for fashion marketplace: Vide Dressing, Depop
On Videdressing's designer fashion website, users can save preferences for brands, categories, and sizes, enabling personalization as they continue to browse.
Shoppers for designer fashions can save their preferred styles, brands, and sizes in Depop's app, facilitating personalization as they continue to browse.
Personalized filters – wishlists for fashion marketplace: Vide Dressing
When users find their desired products on Vidressing's marketplace but aren't ready to buy them, they can add them to a wish list. Videdressing uses this wish list data to personalize the user experience as they continue to browse.
Conclusion
Personalization is a powerful tool for an eCommerce company, helping retailers optimize their sales processes and maximize conversions and overall revenue, while simultaneously improving customer satisfaction and brand loyalty.
About the author