The 2021 holiday season presents a great opportunity for ecommerce retailers and marketplaces. With online shopping continuously increasing, and the unprecedented boost the ecommerce industry has experienced during the last year and a half, retailers can't rely on chance as they approach the Black Friday, Cyber Monday, and the winter holidays. Let's take a lesson from the past and dive deep into the holiday season trends of 2020 to ensure that you have all the necessary tools to make the most of this year's enormous opportunities.
New trends learned from Cyber Week 2020
Seasonal spending spread
Sources: A record-breaking Cyber Week 2020: Online shopping steals the show, Adobe Holiday Shopping season report 2020
Consumers spent $34.4 billion during last year's (2020) Cyber Week, which represents a 20.7 percent year-over-year (YoY) increase. 

Thanksgiving, Black Friday, and Cyber Monday represented the bulk of total spending over the five-day period.

$10.8 billion was spent online by the end of Cyber Monday, an increase of 15.1% YoY, making it the largest online shopping day in U.S. history and beating the previous year's $9.4 billion record. 

The total 2020 season spending (November through Cyber Monday) was $106.5 billion (27.7% YoY growth).
New sales channels
Mobile users represent a growing segment of total holiday spending, with 39% revenue share: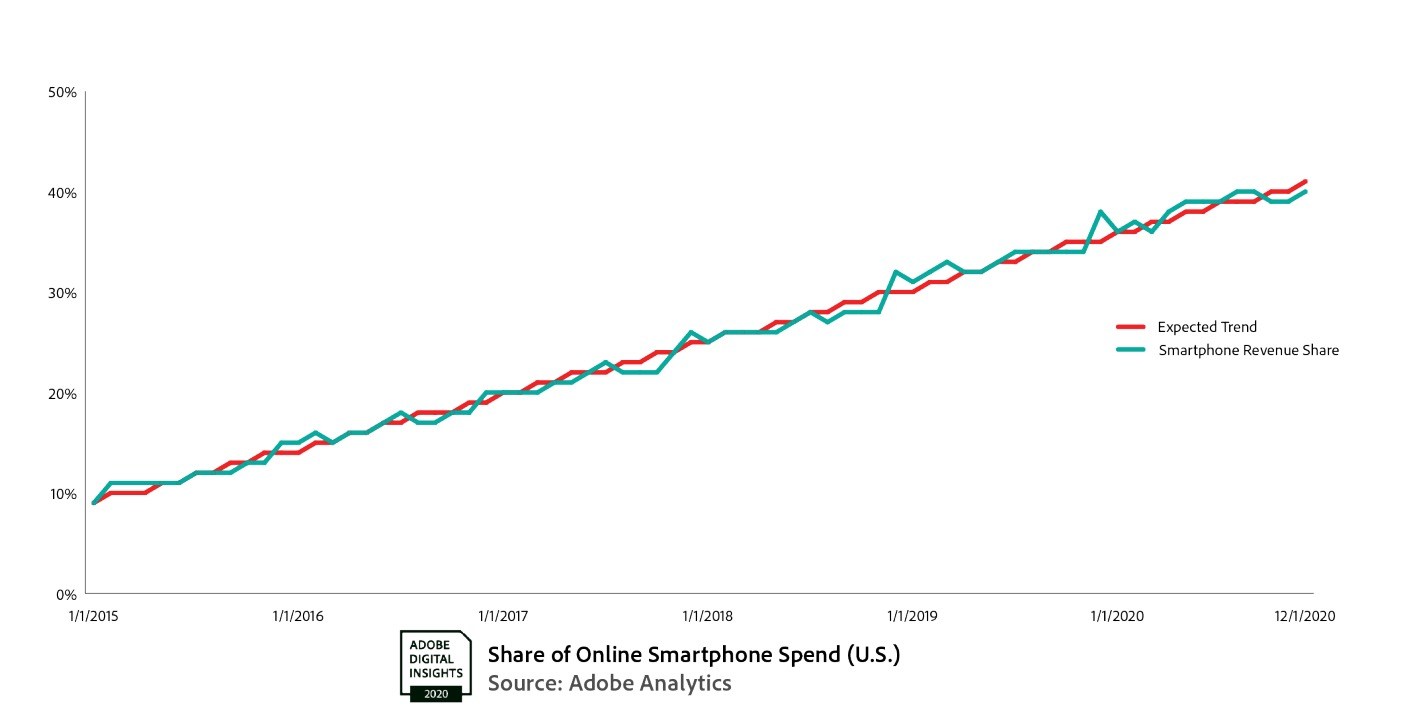 Source: Adobe Holiday Shopping season report 2020
Social media is driving more online sales. Over the Thanksgiving weekend, social media drove one out of 10 visits to retail websites, a 17% YoY increase. 
Social media usage expands from an advertising tool to a full ecommerce experience:

Multiple luxury brands operating WeChat stores

TikTok adding a checkout powered by Shopify

Instagram feeds are integrated on ecommerce websites, offering shoppers to purchase products with regular checkout or Instagram shopping checkout, depending on customer preferences

Customers shopping habits evolve and now involve shopping via voice services, such as Alexa / Google home
Curbside pickup options: buy online – pick up in store (BOPIS)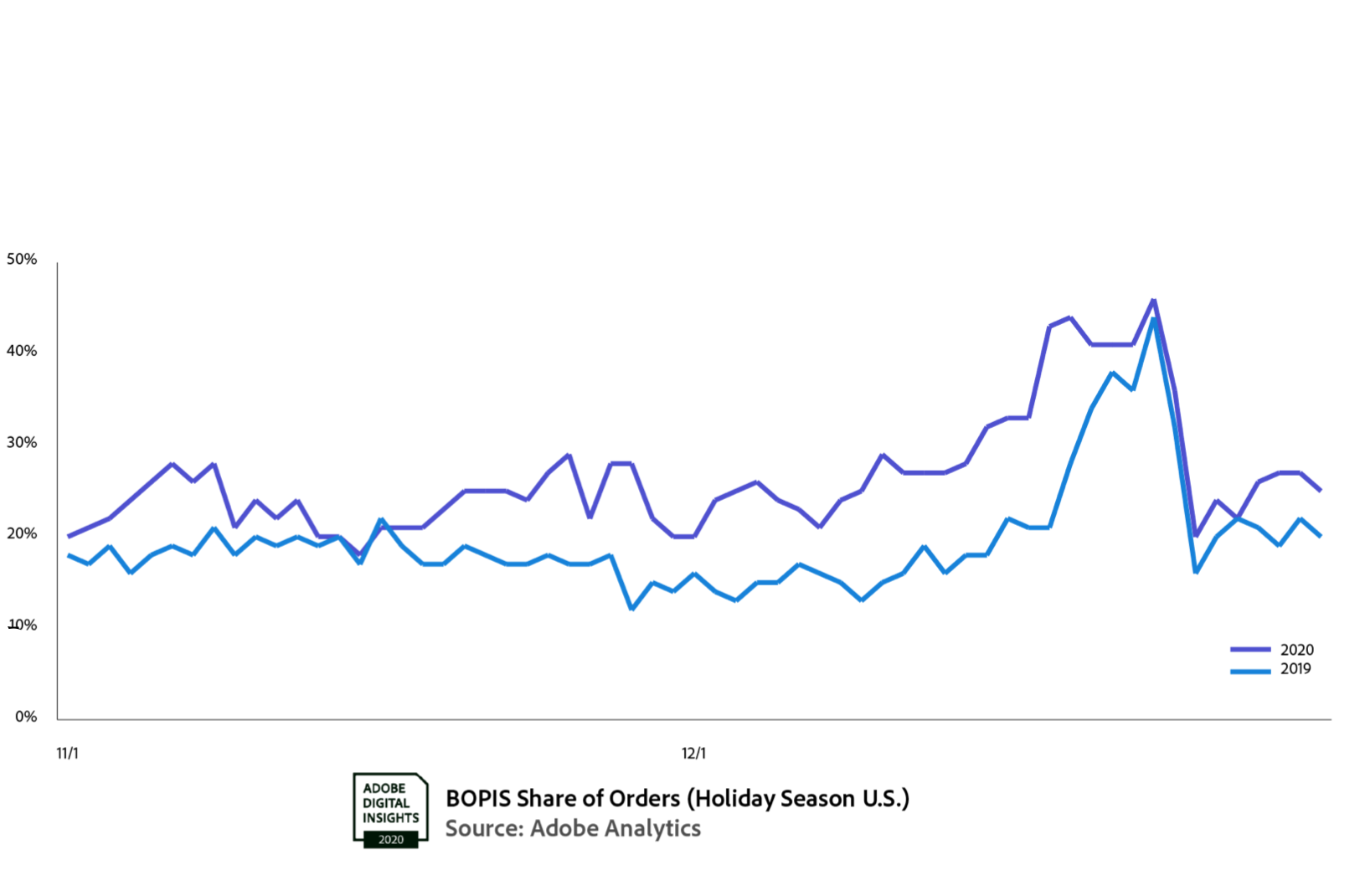 Source: Adobe Holiday Shopping season report 2020
30% growth YoY on Cyber Monday.

37% of shoppers preferred curbside pickup for a last minute online purchasing, second only to a one-day shipping option (45%).

Retailers that offer curbside pickup benefited from a 31% higher

conversion rate

of traffic to their sites. 

Buy online – pickup in store option becomes more popular closer to Christmas, when free and less expensive shipping options continue to diminish.
Source: A record-breaking Cyber Week 2020: Online shopping steals the show
Build a well-planned ecommerce foundation ahead of time 
To leverage the recent trends in online shopping in general and holiday shopping in particular, we need to address several foundational elements:
Make sure shoppers can find what they are looking for easily
Configure and fine-tune the relevance of search and navigation results. Use synonyms and tweak language settings to help users find the products they are looking for even when they use words slightly different from what is used in your product catalog.
Offer query suggestions to guide users in the right direction and shorten the time they spend searching for products. You can suggest popular searches, categories, promoted products even on an empty query, before they start typing. This is especially powerful when used on mobile devices, which make typing uncomfortable for shoppers.
Make sure your ecommerce platform is optimized for mobile and other devices, beyond desktop. It is critical to ensure that your customers are getting a seamless omnichannel experience to maintain their loyalty and satisfaction as customer shopping habits change and evolve.
Optimize your merchandising strategy
Use analytics to see what your customers are searching for close to the holidays season and leverage this knowledge in your merchandising strategy 

Use promotional banners to draw shoppers attention to your promoted products and categories

Hide out-of-stock products or push them to the bottom of the search results

Pin products and categories such as your doorbusters to the top of the search and category pages

Use product recommendation tools on product pages to suggest to your shoppers related products or products frequently bought together in order to increase order volume
Ensure your tech stack is flexible, scalable, and reliable by implementing a Composable Commerce architecture
During the 2020 winter holiday sales season, 65% of ecommerce companies found that their ability to meet the demand was insufficient, 47% were unable to scale to meet the demand, and 25% wanted to be able to iterate and merchandise better. (Source: State of Search Report, 2021).
A key to a flexible, scalable, and reliable ecommerce platform is a Composable Commerce architecture: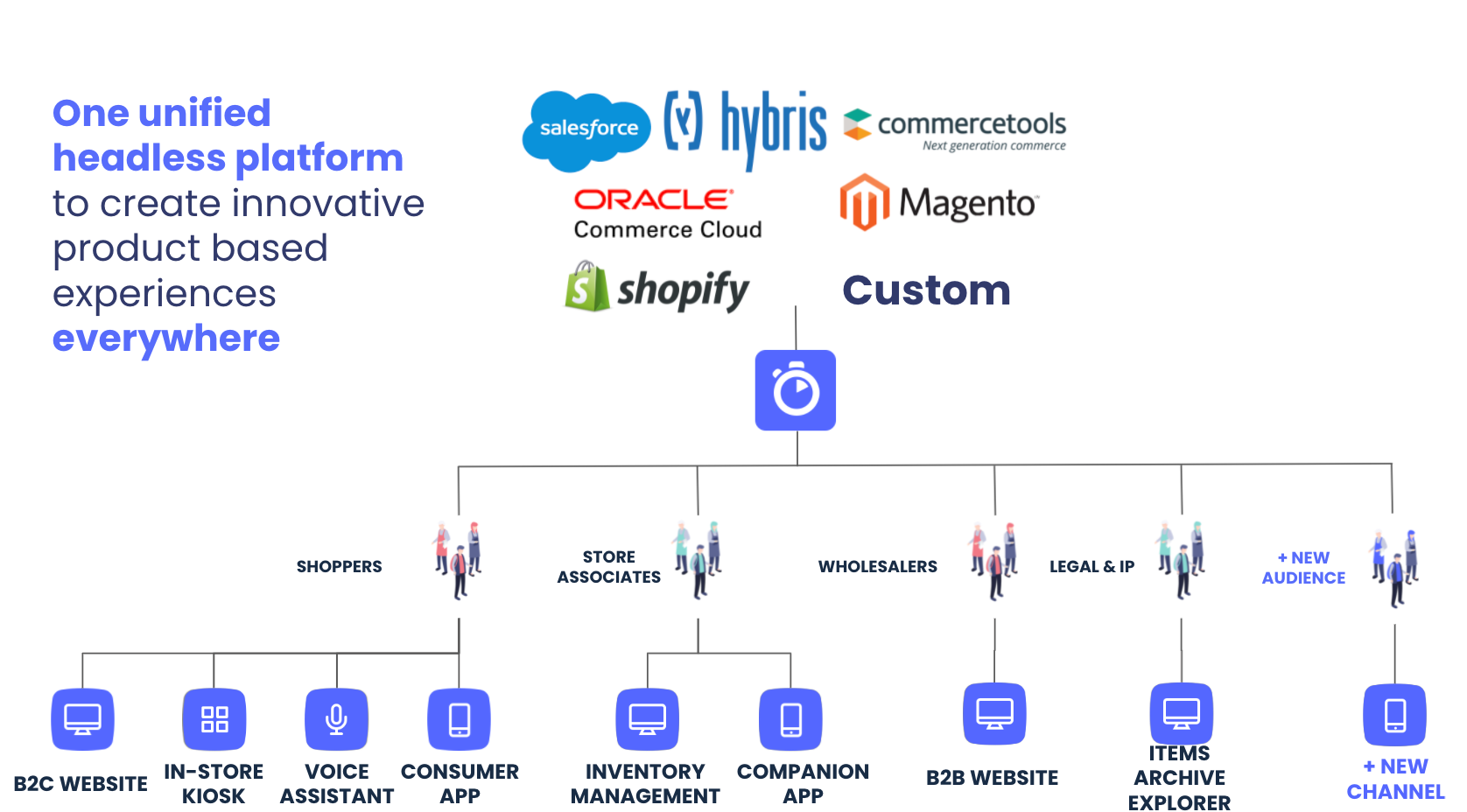 Composable Commerce brings the following advantages:
Replaces parts easily:

You want to have the ability to quickly replace parts of your tech stack that are not giving you the results you expect. Decoupling front and back ends and choosing API-first solutions gives you the freedom to quickly iterate and minimize the time and resources needed for any infrastructural change. Your decisions need to be business driven and not limited by the tech stack 's architecture.
Learn how to select best-of-breed components to meet your business needs 
Learn why a headless architecture and an API-first approach is a winning strategy, helping retailers prepare for surges in demand (e.g., Black Friday)
Minimizes time to market:

Ecommerce is a fast moving industry, with customer habits, demands, and expectations rapidly evolving. What worked in the past might not be as effective today. Therefore, you have to gain the ability to launch new apps quickly and set up a momentum to continuously bring new capabilities to your ecommerce platform.
Learn how to improve omnichannel product discovery experience
Hyper localization of search:

Your stock management system has to be connected to your ecommerce store to ensure instant stock availability information. Coupled with the

buy online – pick up in store (BOPIS)

functionality, this implementation delivers highly valuable service to the customer. Customers are not willing to wait in long lines at the physical stores, they prefer curbside pickup instead. And the closer we get to the holidays, the more attractive BOPIS looks compared to the vanishing and more expensive shipping alternatives.
https://github.com/algolia-samples/store-locator-with-algolia-mapbox-twilio
Saved search alerts:

Minimize the chances of losing potential customers due to logistics and stock limitations. Don't let potential customers give up and leave the items they are interested in run out unexpectedly in a rash of the holiday sales. Implement saved-alerts functionality on your site to automatically notify customers when new matching items become available.
https://github.com/algolia-samples/saved-search-alerts-with-firebase
Recommendations emails:

For your registered or returning customers, leverage AI tools by applying ML-based recommendations to your Black Friday promotional emails. Avoid the ineffective cookie-cutter marketing email campaigns and ensure a personalized approach to every single customer. If a logged-in customer browsed a category on your site, then recommend best rated products from that category. If a customer just bought a product, recommend products that are frequently bought together or related products.
https://github.com/algolia-samples/email-recommendations
Social media + voice assistants:

Ecommerce retail evolves at a high pace, and customer shopping habits change and transform frequently. With the rise of social media commerce and the use of voice assistant devices for shopping, these platforms are now a "must have" for retailers and marketplaces. Wechat, Instagram, Facebook, and many more are not just marketing tools, but full service ecommerce platforms. Similarly, voice assistants are extremely popular among today's busy shoppers, and are becoming a common way to shop.
https://www.algolia.com/blog/ecommerce/composable-commerce-how-to-integrate-your-product-catalog-into-wechat-google-home-and-alexa/
Black Friday omnichannel strategies:

Blend together the ecommerce and

in-store shopping

experiences, to ensure customer satisfaction is not dependent on their shopping platform of choice. Whether your shoppers prefer in-store kiosks, mobile devices, social media shopping, or placing orders with the help of voice assistant devices, you need to ensure the user experience is always the same on every platform. Ecommerce has to adapt to the new trends in shopper behavior, especially during such a high-stake period as the winter holidays sales season.
Conclusion
The unprecedented growth in the ecommerce retail industry, coupled with the recent trends in customer shopping behavior habits, requires companies to adapt to these changes at lightning speed and maximum efficiency. For critical periods, such as the winter holidays sales season, companies need to go beyond the traditional Cyber Week sales and marketing strategies and develop advanced ecommerce capabilities. Ensuring your tech stack is ready to handle the pressure of the biggest sales season of the year starts with a well-planned composable architecture, built for speed, flexibility, and scalability to withstand any pressure.
About the author